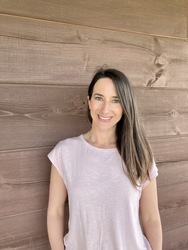 Michele Riechman

Belleville, Illinois
Health and Fitness Coach
Doctorate in Physical Therapy, 200 Hour Yoga Teacher, PN Level 1 Nutrition Certified Coach
I help women who have put themself on the backburner and want to lose weight without dieting, fix their metabolism, & get in shape (even if they are a beginner or have pain or old injuries).
About Me
Are you confused by all the nutrition advice out there? Keto, Intermittent fasting, and low-carb, fats are bad, no wait fats are good..... And the list goes on!
Are you struggling to stay motivated & have no idea where to start?
Do you have an old injury or chronic pain and not sure how to get started?
It can be overwhelming listening to all the information out there telling you how to eat, to do lots of cardio, drink this special weight loss shake, and try this juice cleanse.
No wonder so many of us end up on diets and falling off track, binging and then restricting what we eat, and shaming ourselves for failing again.
Let me clear something up. You haven't failed, this system of quick fixes and diets has failed you and wrecked your metabolism.
It doesn't have to be this way and things don't have to be complicated.

In my Wellness Breakthrough program, we use my RESET method to get to the root of what is leaving you on this endless cycle.
We clear of the diet confusion and we start to break down the unhealthy relationship between food and exercise & drop the guilt and shame.
No more exercising to burn off those extra calories!
We drop the food restrictions and set you up with a solid foundation that is something you can maintain, feel good about, and accelerate your fat loss.

We are going to make sure that we are optimizing your metabolism, so that it is working for you. You will work smarter, not harder.
You're going to learn the WHY behind things, how to keep things simple, and how to actually implement new habits and strategies for you to be successful.
A little about my background: I'm a mom of 4 & a military wife. I have my doctorate in physical therapy, 200-hour yoga teacher certification, & PN Level 1 Nutrition Certified Coach & I'm a personal trainer and health coach.
I would love to connect & set up a FREE, no pressure, Wellness Breakthrough call and hear your challenges & help you find some solutions!
Reviews
4 reviews (5.0)
The 1-1 coaching sessions were key in helping me really know what to eat without being restrictive. I was able to lose weight right in the first month! Michele's workouts were easy to follow and they were the just-right challenge. I was extremely happy with her support & accountability. She would check-in on me throughout the week and was very helpful when I had questions. I felt all the changes I'm making are things that I can sustain and keep doing. I also really enjoyed the deep breathing and meditation exercises and found that I was able to de-stress and have more energy after them.

Rachel
I am so excited about the results after just a little over a month with my personal training sessions with Michele. She made a customized workout that was perfect for where I was and what I needed. She is helping me with nutrition and goals each week. I already have so much more energy and I'm starting to see changes physically in the areas I wanted to tone up. I would highly recommend Michele. She can help with all the things nutrition and fitness!

Julie W.
I'm down 8.5 pounds in one month! I'm certainly feeling a little more like myself. Not nearly as bloated and my cravings have settled down. I've been focusing more on not restricting my food, but watching my portion sizes.

Jessica
Michele's program was just what I needed. She's helpful, non-judgmental, and works with you to design a program that works specifically for you and your lifestyle. The app is amazing. She gives you the workouts that you need to do each day. They're quick and you can fit them into your schedule at a time that works for you. Michele is always very encouraging and stays in touch regularly through the app which provides great accountability. I have just loved this experience and can definitely say that I've experienced improvements in my muscle strength!

Heather