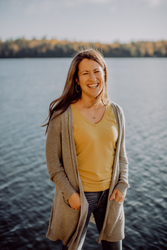 Michelle Walker

Kamloops, British Columbia
Life Coach, Health and Fitness Coach, Career Coach
BS, BEd, Neuro Change Practitioner
I coach women who feel that they are missing something in their life and have settled. I help them gain confidence and courage to go after their dream life and help them embrace their new identity.
About Me
My name is Michelle Walker and I'm a certified transformational health and life coach. I work with women who are feeling like there is a piece missing in their lives.
I believe everyone is capable of creating a dream life full of love, joy and prosperity. Many of us settle for so much less and end up just going through the motions of everyday life feeling unfulfilled. Maybe it's a job we don't like, a passionless relationship, becoming so busy we ignore our own wellbeing and don't recognize ourselves anymore, or just feeling like there's something missing that is keeping us from true happiness.
As an elementary school teacher I excelled at inspiring little ones to dream big and know that anything is possible. Now, as a mastery transformational coach I bring this same inspiration to women and help them to stop just existing on this earth and start living a life of true happiness so they can enjoy the everyday moments with their loved ones.
I am a firm believer in the law of attraction and practicing gratitude. When we begin to understand these things, anything is possible.
I help women shift their limiting beliefs about themselves and begin to see their desired state as a possibility and then help them to become that person and fully embrace their new life.
If this resonates with you please reach out to me so we can schedule a free call to see if we would be a good fit to work together. At the very least, during our call you can get some clarity on what it is you truly want and how you can start down the path to your desired state because you deserve to live your best life.
Reviews
Michelle doesn't have any reviews yet.