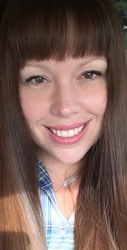 Michelle Fuller

Manlius, New York
Life Coach, Relationship Coach, Spirituality Coach
3 Life Coach Certifications, MS CMHC (Clinical Mental Health Counselor) in progress
My ideal client seeks self-connection. They want to heal, discover Who They Are, and own their unique purpose in the world. They have the courage to engage in the healing and self-development process.
About Me
I am a Life Coach currently completing Graduate Studies and Licensure in Clinical Mental Health Counseling. My knowledge encompasses my own healing path, 3 Life Coach Certification completions, 5 years experience as a professional healer, 15 years working in the helping fields, extensive graduate studies, and in-depth personal studying, seeking, and embodiment. I provide helping services to both men and women.
By identifying the internal (self) and external (others and the world) elements that are fueling unhappiness, suffering, and self-disconnection, we can begin to process the past and integrate our full, true selves. And when we do this? We begin to lead with purpose and excitement. We begin to remember that we are here for a reason! And when we feel heard, we begin to heal. I'm here to hear you and guide you to the results that you desire and WILL achieve.
Sessions are tailored to meet your individual needs and achieve your unique goals. Specialties include reinventing your relationship to yourself and others, working through symptoms of depression and anxiety, parenting support, divorce support, career support, emotional flashback support, inner child work, cognitive and emotional mindfulness, healing attachment trauma, identifying and healing self-sabotage, healing codependency and other relationship patterns, personal boundaries, stepping into your truth, embodying self-trust and healthy self-concept, processing rage and grief, family estrangement, intimacy fears, healing from narcissistic abuse, highly sensitive person (HSP)/empath support, and feeling alone/disconnected from others and the world.
In seeking support, you have already chosen yourSelf. Thank you for choosing me, as well, to support you on your healing journey, your self-remembrance, and your self-reclamation. I offer coaching sessions via phone, zoom, and in-person for locals.
Reviews
6 reviews (5.0)
Michelle and I have been working together for a few months now. She is amazing! Each session she helps me work toward my goals and provides very detailed information. She follows up her sessions with an email recap with helpful links, articles, music, etc. She is a positive light and I am so thankful to have found her beautiful soul to accompany me on this journey!

Casie Hartman
Im so lucky to have stumbled onto Michelle to help me work with my BS. Im growing by leaps and bounds with her guidance and insight.

Naomi Pascoe
Michelle is amazing! She listens, validates and provides thought provoking insight and perspective. I am forever grateful she is on this journey with me

Kerri
Michelle has helped me so much. I am so grateful for her!

David H
I worked with Michelle for 4 years. I didnt know I was struggling with symptoms of trauma and bringing trauma responses into my life and into my relationships when I met her. She helped me identify all of this. Michelle helped me figure out who I actually am, and what I am called to do in my life. She helped me learn to determine what my standards are for myself and to ask for those standards to be met in all areas of my life, mostly from myself. She has taught me so much and I am so grateful to her. I highly recommend Michelle. I feel like she is the first person in my life who really saw me and understood me, and really wanted me to succeed in my life. She has been such a gift to me and to my son, also. I feel like he has his true mother and I can give him the guidance he needs And deserves.

Stephanie
Debra