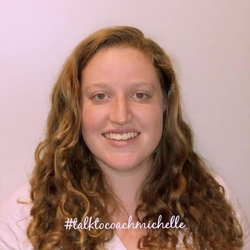 Relationship Coach, Family Coach, Life Coach
Background in Psychology, ABA background
I coach men and women through break ups, divorce, moving on, and improving respectful communication in their relationships. I coach my clients to create balance within themselves and their families.
About Me
Who is Coach Michelle?
I have a background in psychology and am passionate about helping people. I am bi-sexual and have anxiety and am humbled to be able to help others with these struggles learn and grow in their relationships.I care for my clients, I want to help everyone grow to create the best relationship possible. No one deserves second best.
For many people relationships are something they put up with or something they "settle" for. Most of this stems from not knowing what they need out of a relationship or not knowing how to communicate it. Everyone wants to be loved and cared for - but do you really know what you need in a relationship? For each person there is a different path.
Through assisted self examination I can help you answer the questions that have been bugging you. I will help you grow the relationship you deserve through action filled steps. My empathetic and practical approach creates a strong connection with my clients while helping them make the best choices for their relationships.
Why did the break up happen? How did we get here? Why are they upset? Could it work again? How do I fix this? Is he right for me? Why would she hurt me? Can I get my ex back?
These are all brilliant and reflective questions I can help you with.
*New Program: Break up to Better 2020 in Ten weeks!*
Inquire Before January 1st to get a 20% discount!
Reviews
3 reviews (5.0)
"Michelle has been really helpful, she's been a calm clear voice in this storm of a breakup I'm going through. She's helped me focus on what really matters and given me clear advice. I needed this badly."

Andrew, 33 Tennessee
"Michelle is amazing! What started out as a quick question about a break up turned into an ongoing counseling relationship. She's helping me set boundaries among other things & I love how she gives me an action plan. Soooo glad she's in my life!!"

Joanne, 50 North Carolina
"Michelle has been there for me every step of the way and regardless if I get my ex back or not, I'm learning to control my thoughts and self care that wouldn't have happened without Michelle."

Brian, 24 Grad student, Kentucky