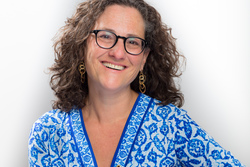 Minda Miloff

Montreal, Quebec
Life Coach, Career Coach, Business Coach
MA, Previous career in project management and training; lead workshops on time management and stress reduction
I coach people who want to improve themselves, at work and at home. I help procrastinators, perfectionists, self-doubters and decision-dodgers experience more wins and make headway on their plans.
Details

Montreal, Quebec H4A2K8
Gender: Female
About Me
I call myself a LIFE & WORK coach because our professional and personal lives are so interconnected and the boundaries between each are blurred.
Clients seek my services for a wide range of reasons. The most common reasons include wanting support and guidance on how to:
• Deal with the negative impacts of stress and burnout
• Improve their productivity
• Learn healthier responses to stress in all phases of life
• Manage difficult relationships
• Find practical solutions to problems at work or at home
Instead of feeling overwhelmed, stressed and guilty about not getting things done, you will focus your mind to achieve your goals, make positive decisions and improve your outlook on life.
Change, no matter how small, has the potential for significant impact on your life. I will help you breathe life into what you want to accomplish and progress incrementally, because success comes one step at a time, not all at once in a rush.
As a coach, I wear a few different hats with respect to goal setting:
• Sounding board – to test out ideas and create vision
• Questioner – to provoke insights, understand resistance and fear about change
• Planner – co-design goals, steps and timelines
• Strategist - to deal with setbacks, challenges and discomfort along the way
• Accountability cop - to help you stay motivated and disciplined
I have a "no-nonsense" practical approach to addressing complex matters, counterbalanced with large doses of empathy and cheer leading. My strength is helping you to build your future and find fulfillment in the present.
My family, relationships, movement, nature, flexibility of mind, exploration of alternative perspectives & openness are central to my life.
Reviews
12 reviews (5.0)
I felt like I was in a bit of a slump professionally last year - working with Coach Minda was an incredibly powerful experience in turning things around...Minda asks all the right questions. She has this wonderfully thoughtful way of helping you see things differently in a way that can bring you new energy and inspiration. For anyone greeting the new year looking to recharge your batteries at the office, find renewed purpose and motivation on the job, or navigate bigger career challenges and dreams, I can't recommend Minda highly enough

Angus M.R - Senior Manager (2019)
A friend of mine introduced me to Coach Minda. She was very patient while I described the challenges that I was having, gently questioned my assumptions on a situation, and gave me thoughtful advice on how to think about my problem differently. Sometimes an insightful idea is all you need to take decisive action and move forward. If you need someone who is an intuitive listener and will give you honest feedback, new perspectives and actionable advice, I highly recommend giving Coach Minda a call

W. Kong (2021)
I was experiencing some challenges in moving forward with my new career coaching business and connected with Minda for some professional coaching. I was stuck and struggled in my sales and marketing efforts. Coach Minda led me through an exercise to dig deeper inside and I identified some goals I could implement for business improvement. She became my chief accountability officer to assure I followed through on my commitments. I appreciated the extra "push" because it is just what I needed to overcome my fears and strengthen my commitment to take the next steps. She was my cheerleader when I had made several strides to move forward. Minda's active listening and visioning skills are top notch. She can quickly weed through the details and coach the client to see the bigger picture, assure they work to a plan and assess what is holding them back. I would highly recommend Minda as a professional coach and would consider her services in the near future.

Bob Weingartner, Career Coach (2013)
Coach Minda has just the right mix of profound intuition and no-nonsense good sense. She is compassionate, dedicated and refreshingly frank. I would recommend her to anyone who has lost sight of the guiding light in their lives, or to anyone who just doesn't see any light at all. She guided me through a process of defining my values and objectives and circumventing the obstacles that had prevented me from taking action sooner. She can help reconnect you with what matters to you. I noticed a remarkable increase in my mood, my productivity, and (most important to me) my sense of direction.

Abbie, Mother, Artist and Entrepreneur (2013)
I had never even heard of a life "coach" before 6 months ago and so I wasn't sure what to expect when I began meeting with Minda. The experience was revelatory in many ways! While I had begun the partnership thinking I wanted to focus on career issues, through conversation with Minda, I discovered other areas in my life of greater priority. Minda helped me identify practical steps to accomplish my goals. While this may seem a simple description of what is involved in the coaching partnership with Minda, it is actually quite an art! As I was the ultimate source of the work, my investment and commitment was that much greater. I am very appreciative of the assistance Minda has offered and will continue the journey!

Mary Anna Smith, Mother of three young children, (2013)
Coach Minda kept me on track while trying to figure out what was standing in the way of a more fulfilling career. She had many helpful suggestions and was able to help me dig deeper when I showed resistance to the process. I appreciated her compassionate, no-nonsense feedback throughout our sessions. I now have a better sense of what my priorities are and how to set achievable goals for myself.

S., Artist and Counsellor, (2013)
Minda has really helped me understand the way the corporate world works. As a small business operator I'm no longer confused by corporate timetables and interactions, so this increased awareness has really helped us secure support from corporate partners. We used to be afraid to ask for what we needed. With Minda's coaching we now understand that the sooner we ask and the more directly we communicate our vision to corporate players, the easier it is for them to greenlight our projects.

Daniel H., Ruffman Entertainment (2013)
Being coached has been a unique experience for me. Minda has a friendly, yet no-nonsense approach when we sit together. I tend to go off on tangents in conversation and in life, and organizational skills are not my strength. In just four sessions, she has helped me focus my attention on priorities and I have been enjoying the new me: I have started looking at things differently, and getting things in order. I am definitely seeing results. And I have learned new things about myself as a result of our interactions!

Shirley, Artist and Teacher (2013)
Since beginning to work with Coach Minda several months ago, I've been able to turn my company around from a scattered, fragmented operation to a busy, productive business. Minda has helped me hone my vision and understand how to work with clients so that my company and staff has what it needs, emotionally, operationally and financially, to move forward. Minda has helped me understand how to make decisions based on the longterm arc rather than seeing only as far as the current week's challenges. This has really improved staff morale and also strengthened our relationships with our clients. I really look forward to my coaching calls because Minda is helping me build something meaningful in my life and career.

Mag R., Ruffman Entertainment (2013)
This is my first experience with coaching. I talk with her on the phone once a week for half an hour about my goals, my obstacles or difficulties, and discuss concrete steps I can take to make changes in my life. Minda creates a comfortable environment and I feel very open when I speak to her. By asking specific and insightful questions she helps me come to my own conclusions. I learned to take big things that I want to accomplish and break them down to baby steps: the importance of having "quality time" with myself and doing things I love, sorting through my priorities and feeling content with small successes. From week to week, I become excited with my different achievements and can't wait to tell her about them. I definitely get a feeling of success and self-satisfaction. At the end of the fifth session Minda asked me if I wanted to continue the coaching process with her. I thought this question over and decided I didn't need the sessions anymore, but at the last minute, I knew I wanted to keep going.

Gabriella, College Student (2013)
For several years, I had struggled with making career related decisions. During my sessions with Minda, I have been able to sift-through my thoughts and define my short and long term professional and personal goals. With Minda's help, I have put together a short term plan which allows me to grow and feel more comfortable within my present position while establishing a long term plan to help me transition to a new career. Minda's ability to quickly hone in on the topics that needed to be "tackled" was impressive. Her positive approach allowed me to realize the unique skills that I could bring to a working environment. I now have a clear view of where to focus my energy in order to find career opportunities that fulfill my needs.

Chris, Lawyer (2013)
I went to Minda at a point in my life where I was feeling completely overwhelmed in many areas of my life. It was too much for me to tackle balancing the needs of a young family and a long-standing fulfilling career that was in transition. She helped to clarify what was important in my life and gave me the tools to achieve my goals. What seemed impossible, Minda showed is quite achievable, both through careful planning and taking on bite-sized goals, rather than having a long unachievable to do list. Best of all, she helped me to gain insight into my own problems and patterns that were causing me unnecessary stress. This new insight gave me an increased sense of independence, productivity and joy, in my home life and career.

Victoria, Professional Dancer and Pilates Instructor (2013)
The Smart Way To Find A Coach

1 Describe Your Goals

2 Get Matched

3 Free Consultations
Find My Ideal Coach Now