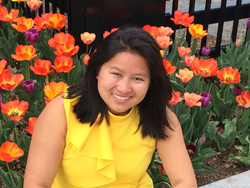 Ming Canaday

Portland, Oregon
Life Coach, Relationship Coach, Career Coach
I coach people with mobility disabilities who struggle with being patronized and treated as second class citizens in society while also grappling with the daily struggles of a disability themselves.
About Me
I am a master coach trained by an ICF approved coach training program. This professional training along with my experience of coaching people of all backgrounds and cultures have equipped me with the tools and techniques to partner with you to bring about clarity, shift your mindset and create the kind of meaningful and fulfilling life that you love.
The people whom I've had the honor of coaching have spanned across the globe: Mauritius, Tanzania, Nigeria, Saudi Arabia, Japan, Sweden, Canada, India, Australia, the Philippines, Russia, Portugal, the United Kingdom and more! They've consistently seen positive results in their lives.
When I discovered coaching and saw what the essence of coaching was, I knew my existing strength as someone who is genuinely interested in people's lives, a natural listener, and an optimist would make me a good coach. I am a natural listener who loves to hear about the details of people's lives and people have always told me I ask the most insightful and thought-provoking questions. I am also an avid traveler, having traveled to nearly 40 countries up to date and learning about the various cultures and people. During my travels, I often find myself enraptured in the most fascinating of stories. Since pursuing coaching, I've discovered a new excitement and burst of energy for life!
I am a member of the International Coaching Federation (ICF). In terms of coach training, I received comprehensive training from an ICF approved coach training center. I received 4 certifications from them, chief among them are my master coach certificate and my life coach certificate.
Reviews
7 reviews (5.0)
Incredibly thorough and friendly. I highly recommend anyone to work with Ming to overcome obstacles, gain clarity, and find new ways to motivate yourself. In one session, Ming successfully helped me turn my life around from feeling unmotivated to waking up the next morning to a different man and my life has been positively changed ever since. Ming also helped me gain perspective on what was at one point an issue in my life that no longer has power over my emotional state, confidence, or levels of optimism. I wake up every morning feeling abundant, clear on my purpose, enjoying the present moment, and feeling confident about my future.

Alexander Sklivas
Incredibly thorough and friendly. I highly recommend anyone to work with Ming to overcome obstacles, gain clarity, and find new ways to motivate yourself.

Alexander Sklivas
Ming creates a very spacious and safe space in her coaching sessions. She pushes me to go deeper into my reflections to figure out what I really feel, and what I really need. I always come out of our sessions with food for thought, curiosity and excitement. Thank you Ming, looking forward to the next one!

Lorraine
As a busy entrepreneur, I worked with Ming to bring more balance into my life. Ming is an incredible coach who guided me to more balance as well as joy in my life. Her sessions brought me clarity about what I want and action steps to move my goals forward. Thank you so much Ming for helping me shift positively in my life in such a short amount of time!

Jean O'Toole
I started working with Coach Ming and she has definitely pushed me to become more intentional in setting and meeting my goals. This year I decided that I wanted to focus on taking care of myself more and that meant making healthier choices. With Mings help, I have been able to identify areas in my life l where I can expand my comfort zone in order to achieve my goals. I have become more aware of my self-talk and weve worked on making small life changes that are sustainable. With her help I have worked on more purposeful living.

Verona
Ming is a true professional at her craft. Her genuine care and authenticity enabled her to connect with me instantly. I felt safe as she assisted me with identifying my personal blind spots while allowing me to generate my own solutions on my own terms. Ming is absolutely phenomenal to work with and has my utmost trust! ~Siah-Ra Ausar

Siah-Ra Ausar
I had a great coaching experience! Just replying along Ming's questions, I felt guided in my thoughts. She helped me reframe my experience of mother-daughter conflicts and see a different perspective. I feel much more resourceful after one session, and excited to connect with my mother.

Svetlana Suvorova