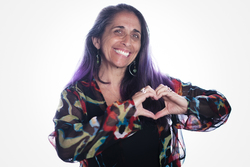 Misha Safran

Martinez, California
Leadership Coach, Relationship Coach, Life Coach
Professional Certified Coach, NIH Award Recipient for DEI Leadership Training
Misha is the right coach for you if you are an individual, team, or organization seeking a resilient, empathetic coach to foster positivity, communication, and well-being in the face of challenges.
Details

Martinez, California 94553
315-367-2849
Send Message
Visit Website
Hourly Rate: $175 to $375 US Dollars
Gender: Female
About Me
Misha's coaching philosophy is a beacon of positivity, empathy, and intuition. She creates a nurturing space for leaders and teams to navigate discomfort, fostering new communication skills. Through her guidance, communities flourish, rediscovering enthusiasm and celebrating success.
Misha empowers individuals, couples, and organizations to reset their mindset and amplify their voices, resulting in renewed energy, creativity, and thoughtful communication.
Her dedication to fostering inclusive relationships, learned from teaching and her own life challenges, ensures sustainable positivity, increased productivity, and enhanced well-being.
Misha embodies resilience, empathy, and lifelong learning, making her an exceptional coach and mentor. As a result of working with Misha, healthy and positive relationships become more sustainable and enjoyable, productivity increases, and general well-being improves.
Misha has dedicated her career to supporting students, school communities, business owners, and organizations in creating and sustaining successful learning opportunities and positive, inclusive relationships.
Having taught in the public school system, she knows first-hand how powerful the impact of empathy and emotional intelligence has on developing working relationships with students and colleagues.
As a result of living with chronic pain, Misha also models the tools necessary to fully embrace the co-existence of life's challenges and joys. She's a single mother of three adult children, identifies as queer, a lifelong learner, singer, and songwriter, and is a co-host of a monthly webinar addressing systemic racism.
Reviews
10 reviews (5.0)
Misha is such a warm, welcoming, compassionate and skilled group leader! She creates an atmosphere in which women feel encouraged and safe to take risks, grow and heal. I have great appreciation for her classes and workshops, and highly recommend them. She incorporates many years of personal growth work and a deep dedication to learning, self-responsibility, healing and growth -- plus, a lot of love, too. I would recommend Misha Safran because her work could be helpful to anyone.

Ruth Schwartz, Director, Conscious Girlfriend Academy, California
We sometimes become so focused on rushing around to the next achievement, event or milestone that we do not stop and enjoy the everyday joys and struggles that make up "life". Misha's sessions are a necessary pause from that rush. Misha provided me with the time and opportunity to pause, reflect and then ultimately reconnect with myself, with the help of the simple and effective techniques she introduces. I consider my experience positively priceless and encourage others to take the opportunity to invest in themselves.I would certainly recommend Misha to other attorneys/law firms. Having a high-stress job can at times feel overwhelming and that stress can carry over into other aspects of life. However, Misha's sessions helped reframe my very "work-focused" mind and helped open my eyes to how much joy is in my life both outside and within my work. That leads to me being a better colleague and attorney. I would also recommend Misha to my friends/family or anybody who feels they could use more joy in life. People from all backgrounds and lifestyles can benefit from having more joy and peace in their lives, and that is what I feel Misha's sessions provide.

Juliana, Scanton, PA
I found Misha's trainings to be incredibly beneficial both personally and professionally. Her expertise and advice for coping with times of stress or disappointment helps to reset the mindset and provide renewed energy and problem-solving skills. Although everyone could benefit from her exercises and insights, those in high-stress professions will learn skills critical to their performance and internal well-being. Not only are her trainings transformative, they are also filled with joy. The time our team spent with Misha allowed a respite from the difficulties and frustrations imposed by the current pandemic so that we were able to come back with renewed vigor and sense of purpose.

Deanne, Scranton, PA
Misha is an amazing person whose energy radiates to everyone she talks to, even through Zoom. Her responsiveness to what people say, and her ability to read between the lines, is extremely helpful and allowed me to be open and vulnerable. I think attorneys, like myself, have trouble modulating emotions and responses to stress, and Misha can definitely help with those issues. I would also recommend her to friends and family, especially those dealing with particular stressors like grief or issues with work.

Hope, Scanton, PA
Coaching sessions with Misha has given me additional tools to better cope with the stress/anxiety of everyday life. Misha's team sessions allowed our workplace to further bond, as well as well as provided a safe space for everyone to reflect upon stressors in our lives and tips on how to manage them.

Melissa, Scanton, PA
Misha's positivity is infectious. Misha's trainings and coaching sessions were a good start on my journey to learning to live in the here and now, rather than dwelling on the past or worrying about what might happen in the future. Misha helped me to learn that sometimes pausing to reflect about how I am feeling right now and addressing those feelings immediately is a helpful practice. I believe that doing these group sessions at work helped all of us to communicate more openly with one another. I feel that our team has a stronger bond because of these sessions. I already have recommended Misha to several friends as I felt that I learned a great deal from these sessions.

Nina, Scranton, PA
Misha offers a respectful, compassionate, enthusiastic, and creative presence. She offers hope happiness and a spirit of openness. The energy she offers is given freely, lovingly, and generously. She is careful to cultivate a safe space for sharing, exploration and self revelation. Time with Misha, will absolutely leave clients with a sense of being soothed, affirmed, inspired, seen, and lifted by JOY!

Gina M.
Misha is one of the most kind and heartfelt people I have ever met. She works with you where you are and helps you to build on self-care practices and grow in ways that are unimaginable. I have learned a lot about myself and what practices work for me and what do not. Misha is an old soul with knowledge beyond her years! I would definitely recommend Misha Safran to other professionals in my field because she is a compassionate person. Her compassion transcends sexuality, race, ethnicity, and all identities.

AB, Virginia
Misha has been a joy to learn from. She is always well-prepared, knowledgeable, and joyful! She has such a peppy, bubbly personality and always has positive remarks to share with others. I have really enjoyed learning about how to make my life more joy-filled.

Darla M, California
Every once in awhile a new voice arises in me--a voice from the darkness, from the distance--saying, "Yay me!". It has sprouted. It is growing, thanks to Misha and the wonderful women in her class. I am very grateful to Misha for this gift and for her kindness in how she created it and how she offers it. Thank you! I would recommend Misha to other professional in my field because she works with universal experiences.

Kay W., Washington