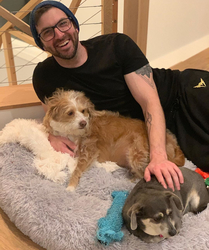 Mitch Jackson

Redondo Beach, California
Life Coach, Spirituality Coach, ADD ADHD Coach
Certified Professional Coach, Registered Alcohol Drug Technician
I specialize in discovering your true potential to be successful in life. Whether it is relationships, substance use issues, or career path success.
About Me
I have worked in mental health and recovery for over 8 years now and have always been focused on what holds people back from succeeding in all aspects of their life. Whether it's the relationship they are in, a job that makes them unhappy, or issues with family members, I want to find what is holding people back from being who they are supposed to be.
I'm not a coach that is going to tell you a bunch of inspirational one liners to get you on your feet. I am someone who is going to tell you the real reason why you haven't been given what you deserve, and that is a happy fulfilling life that you have always needed.
Personally, I have spent a lot of time wondering if there was always something more for me. I frequently asked myself, "What is my purpose? Why am I here?" I never really got an answer until I started to learn who I was. I have seen therapists and psychologists for years, but I wasn't willing to learn what they had to say. It wasn't until I met a mentor that guided me into self discovery. I did years of work on myself looking inward and finding what makes me, ME. It became clear that the times I've been happiest in life is when I guide people to do the same.
All of my coaching is about results. If you don't get results then I'm not doing my job. My desire is for you to find your desire.
Reviews
Mitch doesn't have any reviews yet.