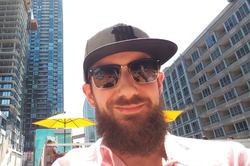 Mitch Schwartz

Montreal, Quebec
Leadership Coach, Team Coach, Spirituality Coach
DEC - Industrial Design
I work with leaders on creating healthy productive environments for themselves and their teams. With mindset, alignment, and process, we focus on the individual's and team's highest value next steps.
About Me
As an entrepreneur, designer, Agile pm, and workflow manager, I've learned that the most important leadership skills are:
- Building trust
- Communicating
- Aligning
- Coaching
- Connection
Yet frequently we take approaches that are not only ineffective but harmful.
Almost always, we do this out of some deeper fear which causes us to feel stuck. That leads us to procrastination and other loops.
This causes us to try to control things around us even more. Then we feel overworked, stressed, burned out, and like the people around us are not carrying their own.
Among others, I've had strong success with recovering type-A personalities, rebels, and ADD brained people, as we tend to focus on simple systems that support outcomes while defusing fear, perfectionism, controlling tendencies, etc.
The work to be done straddles the line between executive and transformational coaching.
My experience in leading multiple product and operational teams, coordinating leaders, and developing processes for remote companies has shown me how the simple act of non-judgemental communication with ourselves and among our teams can quickly create a huge difference in the pace, quality, and joy of the work being done.
I work with individuals and facilitate team conversations as well.
Reviews
6 reviews (1 verified) (5.0)
Mitch, with the time that we had, helped me improve my life by helping me get clear on what I want and producing practical little-by-little steps to get there. He has helped me eliminate some blockages I have had and he has a great laid-back personality anyone could get along with. Very easy for him to understand what you need, he adjusts to what comes up in a coaching session that provides the most results.

Dylan
The way that you present your ideas with humility and humanity in a way that says, you know, here's a good idea, I think it's going to work, here are the specific positive elements that I've seen from this, you're asking me to participate in a way that's more flexible. That allows me to use my own intelligence, to improve it, rather than just someone coming in and saying, I have the system, I have this philosophy, accept it, comply with it completely. That's never ever worked. For me. It's always been something that I've rejected, and not on principle, just my system digest. There's not a thing that you've ever shared with me that I've ever felt was useless. It's always been something that you've presented to me in a way that was flexible enough, practical enough that I could get some value out of it.

Andrew Lemon
There's been a tremendous amount of customization to the way that I think and being able to pivot on the fly, when you realize: Oh, Jeremy's got a weird quirk in his head; let's work with it instead of trying to force through it. And that's been very helpful to me. You've helped me clear up not just thoughts, but some strategies that I had not really had access to or clarity on before. It's made a big difference. Thank you.

Jeremy P.
I often exit trainings and productivity sessions feeling more stressed out but working with this system helped me feel much less stressed out and more relaxed so thank you so much. This was fun. It was nice to quickly looping through the process so that my inner perfectionist couldn't get too stuck on any one part. I could feel the grips start to loosen.

Christy T
Our sessions with Pragmaflow have become a time for reflection where we can focus on whats really important. They ask the right questions that connect us with our inner drivers but also obstacles that would keep us from delivering the impact we aim to achieve through our work. Its a pragmatic approach that starts from within, which is where the true power of productivity comes from. I'm so glad we broke through to the core of what underlies efficiency.

Thomas De Bruyne
Mitch Really helped us get unstuck as a team and helped me move forward as an entrepreneur. In the past, our team vibe and the way we managed things was not clean. We were going through a lot of internal issues and I feel like with these meetings we really focused and made the changes we needed to make. Now our process is way better. Everybody is really doing well at their tasks and everybody knows what to do. Weve definitely improved a lot in the way we treat eachother, the way we approach problems, and the way we are being trained. There has definitely has been a change and I like it. I feel a lot more confident because weve fixed many of the bugs that we had

Karim Baba