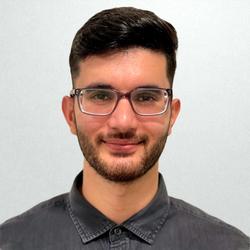 Mohamad Hamood

Dearborn Heights, Michigan
Life Coach
Are you a Gen-Z or Millennial who feels lost or limited in what you can do? My "Soul Envision" process specializes in helping you gain confidence, clarity, and positivity through robust dialogue.
About Me
I coach Gen-Z or Millenials individuals who want to transform how they perceive themselves, others, and their spirituality. In other words, I help my clients develop a worldview that allows them to fulfill their purpose, increase confidence, and improve baseline happiness.
-Do you feel like life controls you more than you control life?
-Do you ever wonder how you should express yourself around others?
-Do you ever wonder what your place in this universe is?
-Is having an existential crisis the norm rather than the exception?
-Do you want to leave your imprint on this existence?
There is a way to make sense of your life. There is a way to feel more powerful than you have ever felt before. Life does not have to be as confusing as everybody around you would have you believe. Your dreams could become your mission. It all starts with putting aside time to challenge your views and who you are.
In this coaching relationship, you and I will create a new way of perceiving reality through my "Soul Envision" process. This conversation process will liberate you from limiting thoughts and emotions and improve your overall life satisfaction by developing a new and empowering perspective. While this can be done alone, I can speak from experience that it is a much more straightforward process when you have someone who shares your reality and who you can bounce ideas off of to gain more clarity in your values, life purpose, and ability to face life's challenges.
More about me:
-I have spent thousands of dollars getting coached (Metamorphic program) and coaching others (Institute for Life Coach Training) to become the best coach possible
-I graduated from the University of Michigan Dearborn with a Bachelor's in Biology and a Minor in Psychology
-I got accepted to KYCOM medical school and rescinded my acceptance because I realized my true life purpose, which is making social change in other people's lives
-Work experience includes medical, mental health, food, and management
Reviews
4 reviews (5.0)
Working with Mohamad has been a pleasure so far. His patience, understanding, and openness is what I loved about our coaching sessions. His main drive is to first understand the client, and then constructively work towards the appropriate objectives at hand. Asking insightful questions not only opens up the pathway for new approaches but offers new view points by shifting perspectives. Having someone like Mohamad working along side you on this journey of life should be experienced by all.

James Pipitone
Working with Mo has been transformative! Even after just one session I was already perceiving my circumstances with new insight and perspective and feeling more at home in my life and empowered in my choices. Several sessions later, my relationship to myself has shifted in such powerful and positive ways that I wouldn't have been able to imagine before. I've never felt more grounded, clear, and motivated and I continue to integrate and apply the experiential shifts that happen within sessions weeks later. Mo is an extremely skilled coach and if you're seeking perspective, clarity, or, and especially, meaningful and lasting transformation in your awareness and sense of personal freedom, I highly recommend working with him.

Pema
Anonymous
I was at a pretty low point in my life when I first approach Mohamad for help. Through his coaching, I was able to see things I had never considered before. He gave me the tools to consider and search for different avenues. Mohamad also listened carefully to my needs and tried to work within my bounds, but also encouraged me to stretch and get a little uncomfortable that's where the real growth happens. Now, I've tripled my monthly income and am confident I have the skills necessary to succeed. Thank you so much Mohamad! <3

Violet