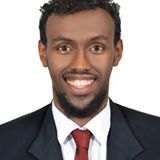 Mohammed OMAR SULAIMAN

Doha, Doha
Life Coach, Career Coach
BA, BComm, ICF (International Coaching Federation)Certified Trained Coach
I help men (20-45 yrs) who have realized that there is more in life than 9-5 job & want to TRANSFORM to the life they desire (or day dream of) which they may or may not know completely.
About Me
I am a people server and i get satisfied by seeing people attain or succeed to the life they desire.I believe that every individual is the best expert of his/her life while being highly resourceful and creative.I believe persistence,perseverance and resilience with a commitment to change to what you want to be (which you may day dream about from time to time while you smile brightly about it before coming back to your current reality).The time to achieve the same differs from one individual to another.There will be failures,down times,etc... as there will be success & times were every thing will be going on good.
Did you work so hard to gain the promotion you require, But found yourself working even more while the extra pay you got in your wages aren't serving you anymore as you expected? Do you desire to live the life you day dream of in your long showers with all its details?Do you want to live within a community that you share similar or different values which you admire?
I will be here with you to discover deeply on every step in order to move forward to what you want as far as you REALLY want it.
I have completed my ICF (International Coaching Federation) coach training program and on my way to get my ACC accreditation.
While valuing ABUNDANCE & DIFFERENCE, I am B.Com graduate and on March 2020 finished my BA in journalism and Mass communication.Working in the customer service field since 2007 and presently a Retail Assistant Manager in the Telecom Field while being a TRANSFORMATIONAL LIFE COACH for the past 2+ years
Reviews
4 reviews (5.0)
I have had a couple of coaching sessions With Mohamed Omar about leadership and interpersonal skills when I first moved into a manager position in my current company. The transition into a senior level had various challenges from managing people to managing business operations. Those sessions have helped me in identifying root cause problems and setting the path of making critical decisions, particularly in managing people or teams. The end result was quite impressive as he have walked the extra mile not only in assessing and understanding my needs but also providing continuous feedback along the way of implementing the decided changes. I did recommend Mohamed for our company to carry coaching sessions for the selected few of the team meme era to plan their leadership progression. I still maintain professional and personal relation with Mohamed and I will always recommend him to others.

Omar Tefo
Im pleased to have this training session with Mr Omar, was very helpful in different aspects of dealing with my daughter and seeing it from a better prospective. I was struggling to be patient to see better results in learning the progression of the process. This has enhanced my understanding and approach for my daughters learning objectives and capabilities of her understanding. I had the pleasure Mr Omar and would come for more in the near future. Thank you so much and I pray the best for you, your family and for better professional career progressive. Best Regards, Ahmed Mukamil Sr. Team Lead

Ahmed Mukamil
I met Omar at a point in my life where I believed, genuinely believed with little help I can achieve my goals and dreams. Omar as a life coach provided me this, he helped me asked myself the right questions, set the right tasks, reach weekly milestones and provided me with an accountability. Few months with Omar I achieved more than ever and now with structure to my goals and dreams i actually believe I can achieve them. Omar is tentative, caring and highly professional individual who I would highly recommend.

LJ
Mohammed is am amazing and empathetic coach!He operates from the place of authenticity and uses emotional intelligence to bring up the fundamental issues to surface in the coaching session.His innate ability to bring humour makes the session even more interesting when looked at from a distance and as well as going through it.He is definitely an old soul with lot of humility and encompassed with coaching competencies of deep listening and powerful questioning makes him a great coach.I benefited a lot from his sessions.

Chaitali shetty,life coach and Therapist