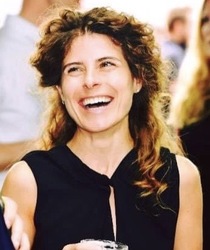 Monica Mundo

London, England
Career Coach, Executive Coach, Life Coach
MA, Economics, Diploma Transformational Coaching, Qualified Career Change Coach, Strengths Practitioner, Mental Health First Aider & Mental Fitness Coach
I help clients who are at crossroads in their life or career with lack of clarity about next step. We will work together on your awareness, in getting clarity and I'll support you to take actions.
About Me
Italian&English
CAREER COACH
Usually people start their career in their early twenties and think that they will remain on the same path for all of their life, progressing higher and achieving more and never really thinking that a career change is possible. The realisation of change might lead to feelings of lost and demotivation, self-doubt, fears and insecurities about your identity. A career change could mean anything from starting a new job, completely changing your sector, becoming an entrepreneur and setting up your own business, or simply discovering the concept of a portfolio career and INTRApreneurship and adjusting your career accordingly.
LIFE COACH
I work with clients in transition, who want more from their personal and professional life, keen to focus on their values, priorities, motivation with particular emphasis on their mental health, wellbeing and awareness in their daily life.
HOW IT WORKS
Your coaching experience will be tailored to you as an individual and customized to meet your specific needs, priorities and aspirations.
We will start to work together from where you are, we will explore your VISION – What you want, your IDENTITY – Who you are, and mostly your VALUES, your WHY – Why what you want is important to you. In the following step, we will go deeper into what you really want. I will help you educate yourself, brainstorm your potentials, and collect information and data based on your preferences. Find out what you like which will help you have a better idea of your direction. In the last step, we will investigate the top possibilities and create an action plan fully customised on you and steps to be taken in order to achieve your goal.
BACKGROUND
I have a Master's degree in economics and cross-cultural experience between Italy and the UK.
Eight years ago I moved to London to build my corporate career. I understand the challenges of creating a new life away from friends and family, experiencing intercultural differences along the way.
Reviews
10 reviews (1 verified) (4.9)
Great coach. I worked with here at a difficult time on online meetings. During the pandemic, you Monica is the best. You helped me to overcome challenges and you were there for support. Thank you.

Es
I used to believe that money can buy happiness. It is only when I left my previous career that I realize it is simplicity that buys happiness. Wake up every morning, feel refreshed, grab a cup of coffee, begin my bible study for meditation and write my research essay. Do online studying and prepare dinner. Enjoy dinner time with my partner. Happiness can be achieved so easily. I think the career change programme way exceeded my expectations. I did not even have a direction at the beginning and now I have already started working on some tasks of my expected new career. I like how Monica can target specific needs of each clients - e.g. psychological support where necessary in a professional manner. Love how she's non-judgmental. On a personal level, she is very caring, organised and detail-oriented. By working together I identified the causes of why I constantly felt discouraged in my past career. I picked up my confidence and self-esteem and learnt how to pursue my career aspirations in a more effective way Postgraduate Student, Hong Kong

Anonymous
When I started looking for a career coach, I felt lost and frustrated. I knew something had to change but I wasn't quite sure what. I wasn't sure if coaching would help but six months later, I can honestly say that Monica's coaching has had a direct impact on some huge positive changes in my life, after feeling stagnant for a few years. Her flexible programme of career and life coaching has helped me listen to my inner thoughts/feelings and to better understand my desires and needs. I feel a new stronger sense of confidence which has enabled me to make some big decisions in both my career and my personal life. Friends have asked me whether I think the coaching has had an impact on these decisions and I am certain it has a lot to answer for. Monica is extremely attentive and supportive, during and between the sessions, and I really liked the fact that she flexed the programme to my needs. I couldn't recommend Monica's coaching more. Thank you for everything!

Hannah
I discovered Monica at a point in my life where I wanted to make changes in my life, but I was very unsure how to go about it. I knew what I wanted to do but I had not idea how to approach it and was drowned out by the inability to take any steps towards any path. Monica encouraged me to take steps towards areas that I never thought I would go towards, she challenged me to do things I was very unsure about doing. These challenges enabled me to break down self-imposed barriers, ideas and to take action. She also helped me find out who I am as a person, my values, my strengths, my behaviours, attachment styles and so much more that has really showed me who I truly am. Im very grateful to have met Monica, the confidence I have achieved and the actions I have taken through the sessions with her enabled me to meet people and look at aspects of myself I discarded. All the people I have met through Monica's challenges, have led me onto a path which is much clearer. Monica gives you the confidence to take action, to feel challenged because the only person you have to let yourself down is yourself, no one else.# Its only the beginning of the next steps but they seem the natural ones now and it proves with hard work & knowledge you can achieve anything. I can't recommend her highly enough.

Deborah Kane
Monica coached me over a period of several months. Working with Monica was an eye opening experience for me. I had never worked with a life coach and went with a very set idea of what I wanted out of it. It is a great credit to Monica that she didn't just take what I said and pursue that path without question. Instead she challenged me, and helped me discover a great deal about myself. These weren't superficial things either, these were core values, my desires, my needs - and an understanding of why for all of those. From exploring those things together I developed a much better understanding of what would make me happier. If we had just worked on the strong idea I went in with, today I wouldn't be more fulfilled and satisfied than I've ever been. It sounds really cheesy, but it's true; the coaching Monica gave me provided me with ways to get the most out myself and how I can pursue my wants and desires effectively. She has provided me with tools that I will be able to use for the rest of my life. When we discussed topics together it was much more helpful than reading a book, article or hearing it from a friend, she helped drill down into things so that I got a deep understanding which otherwise wouldn't have been possible. I have a tendency to ramble on, and go off topic, but Monica was always able to understand the point I was driving at. She would listen attentively and could summarise succinctly the essence of what I was conveying, which is not an easy task. She always made sure she understood exactly before discussing further. The conversations we had were thought provoking, and sometimes difficult because they made me explore beyond the surface. Monica was very encouraging, and always willing to provide help and support. Monica would provide materials, and exercises for study outside of our time together too. She put in a great deal of effort and her own time to investigate the topics we discussed. It is clear she has a deep passion for life coaching and helping others. At every step of the way she made sure I was getting the most out of it, that I was getting what I wanted out of it, and that I was comfortable. I was very fortunate to have had the opportunity to work with Monica, and I strongly recommend Monica as your life coach. I hope to work with her again soon.

Ben Hutson
Monica has been of great help this past two months. I reached out for help on a career promotion; a big step for me and challenging because it was not only a new role for me, but a new role in the company that I would have to fill in as well as define and fit it in with other areas and teams of the company. We set up coaching sessions very easily through mail and zoom: me from Spain and Monica from London. She has supported me greatly by listening and, more importantly, asking the right questions that have helped me reflect on the things that were happening, the things I need and would like, and find ways to plan and act on challenging subjects from an objective and self-aware perspective. I highly recommend Monica; she is a great listener, great at asking questions and great at empathising on and remembering what you are going through. After a session with her I felt more calm, positive and ready to tackle the challenges :).

Maria
Change Management Consultant I contacted Monica about 2 months ago because I was at a place in my life where I needed help. I left my job in banking and knew that I did not want to go back, but I was confused about my next step and direction. Monica helped me to clarify my goals. She helped me to identify my values, which in turn helped me to find my new direction. In the process of working with Monica I also understood what holds me back and what needs to be done to overcome that. I am on my new journey now. I did a course that helped me to look for a different type of job. A job that I am looking forward to. Monicas help was incredibly important during the confusing time in my life. I would recommend her to anyone who is at crossroads in their life and is in need of a new direction.

L. Wolf
I reached out to Monica to ask for help for a professional topic. When I moved to the UK for my German company to take over a team of 4 direct reports, I was overwhelmed by the new situation in a different country and had to cope with many cultural topics. I really enjoyed the sessions with Monica and by listening and asking questions she helped me to structure my challenges and prepare a plan how to approach it. We also did a session about values which helped to understand my core priorities. I can clearly recommend Monica. She understands the challenges of people who have moved countries and who have to cope with intercultural challenges. She creates a good atmosphere which helps to open up and every session had an outcome which added value for me. She also knows a lot of books and gives good recommendations ;-). Best Regards

Matthias
Monica has a great combination of professionalism and positivity. I had a couple of side projects I wanted to do but never got around to. They required significant time when I am time poor. Monica helped me structure my plans so they were achievable. But most of all having Monica as a coach made me accountable to her for delivering my plans stepwise. Monica's positivity meant I did not want to let her down. I continue to keep Monica abreast of my progress. Monica is a great motivator. I heartily recommend her.

David, CTO, London
Ho incontrato Monica in un momento difficile della mia vita, sia a livello sentimentale che a livello lavorativo. Non ero più soddisfatta, ma non sapevo assolutamente quale strada intraprendere. Nelle varie sessioni, affrontando i miei limiti, i miei blocchi, ma anche i miei valori e le mie capacità, sono riuscita a capire come raggiungere e concretizzare i miei obbiettivi. Tra l'altro Monica ha una capacità di ascoltare e di metterti a tuo agio tali, da sentirti libero di parlare di qualunque cosa. Per queste ragioni, mi sento di consigliare il suo aiuto a chiunque abbia perso di vista i propri obbiettivi, oppure a coloro che stanno attraversando un momento di confusione che li porta a non essere più felici e soddisfatti della propria vita. Grazie di cuore per il tuo aiuto Monica

Valentina M