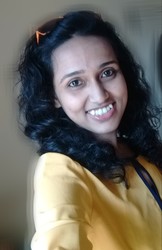 Moumita Dhar

Bangalore, Karnataka
Relationship Coach, Life Coach, Health and Fitness Coach
NLP Certified Coach and Practitioner, B.E.
I coach individuals or couples who find themselves feeling stuck or unhappy and/or want to transform their relationships into their dream relationship, thereby enhancing the experience of their lives.
About Me
I work with my clients not just to resolve their issues but to transform and improve their relationships with themselves and with others for the rest of their lives. My mission is to help people develop and maintain healthy relationships with their close ones, partners, families.
My coaching technique aims at facilitating self-growth by helping you identify the core challenges and setbacks in your life and relationships. I specialize in identifying the unobvious and hidden issues and help you resolve them to create an amazing relationship. I will provide you with tools to help find healthy relationships and to re-ignite the passion or liveliness.
Our experience of life is directly impacted by the quality of our relationships. I strongly suggest that if you are happy in your close relationships, you are much more capable of achieving anything and everything else that you have ever dreamed of.
If you want to build strong connections and experience for yourself how this transforms the experience of your entire life, book a discovery session with me today to find out the best way for us to work together to create this transformation. I would love to help you create amazing relationships for yourself.
Reviews
4 reviews (5.0)
Being at home for almost 2 years sucks. But a couple of months back when I got to know about Moumita Ma'am, and when I talked to her, she really helped me a lot. I did not had any buck for the session but still she heard everything from which I was going through and helped me. She is really sweet and humble. I am glad that I got to know about such a wonderful person.

Sanjhal Kanoujia
Moumita was just amazing. After I met her I had clarity in my thoughts and started to do things I always wanted to do. She is a good listener and follow-ups with you on the actions discussed, very friendly.

Priyanka
I am one of fortunate client who had opportunity to have interaction with her. I admire her skills to resolve issues. She is very good at counseling relationship issues.

Ravi M.
I connected with Moumita at a critical stage of my life. I had a sour relationship with my girlfriend. She helped me to make me understand at every juncture what I need to do and how I need to hold myself to be emotionally strong. Her suggestions and coaching not only helped me for that girlfriend relationship but also with the rest of the relationships in life. I highly recommend to go to her.

Vidyasagar