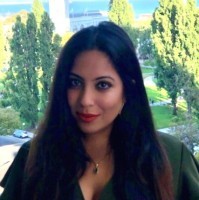 Mrrinali Bhatia

San Francisco, California
Life Coach, Career Coach, Relationship Coach
MBA, Certified life coach from World Coach Institute; Access consciousness healer
Anyone who - 1)needs to discover / re-discover their purpose 2)Seek clarity 3)Need to overcome an obstacle/problem 4)Need help with self-love or self-development 5)Need to find a way to meet a goal
About Me
I come with 8+ years of corporate HR experience. I've coached clients across global locations - California, London, India. I have been a Career Coach for 8 years and a life coach and healer since 2017. The virtual world keeps us connected. Coaching has been my passion, and influencing my clients to discover their own light, is one of my most precious challenges. I cater to you on a one on one level, and given that I am also a spiritual healer I tend to advise my clients "holistically'' to acknowledge ALL facets of them, to be able to eventually guide them optimally.
My USP is that I am high on the emotional quotient, so I'm always going to empathize and relate with you and your uniqueness, and I also have a pragmatic side that will help you seek clarity and solutions to every problem.
I am a certified life coach - with a specialization in relationships, career, and spirituality. Along with helping my clients meet their goals and solve their problems, I tend to coach them through a transition that sees remarkable results in ''habit-shifts''. It's the process of breaking the fixed nodes (limiting beliefs) in their heads and making their mindsets attuned to growing,/expanding/evolving to holistic positivity.
I help them navigate the process of life, breaking it down to core projects.
I believe in making a large-scale impact on their lives, with achievable baby steps.
I help you create magic, just by making you realize that you have the wand in your hands.
I not only help my clients find a method to the madness but also give them tools and techniques to help them be the master of their own game.
For enquires or booking an appointment contact me :
mrrinalipunj@gmail.com
Reviews
I have been coached by Mrrinali for the last 2 years, she is one of the top people I trust. Our interactions started with her helping me with my career goals, and in the first two sessions, I was so comfortable with her that I went back to her when I needed coaching in my relationships and personal life too. Extremely professional and warm. I highly recommend working with her. I think she has high emotional intelligence, structured thinking, and high intuition.

Austin Fletcher