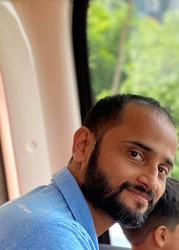 Life Coach, Relationship Coach, Career Coach
Men & Women beyond age of 30, who are feeling 'Stuck' at a decision point in any sphere of Life. 'Stuck'= Feeling lack of fulfillment/ irritation/procrastination at the thought of the issue.
About Me
My core philosophy:
On this Pale Blue Dot that we call Earth, we have more in common among us, living in different parts of the world than the differences that are merely outward appearances.
I have experienced this in my 2 decades of working in international work environment, first 9 years as Seafarer then later as a specialist on Oil rigs.
My road to Personal Coach:
The Trust and rapport I gained at work place, eventually led to some Colleagues opening to me breaking all barriers, and I listened; I held the space for them. And some expressed gratitude as it helped.
When life gave an opportunity to become a Personal Coach, I chose the 'Co-Active' coaching institute.
They run the most rigorous Life Coach training program in the world. It has earned the recognition of the McLean Hospital, an affiliate of Harvard Medical School.
This program is the first one accredited by ICF.
The best part of this method is , it enables me to help any person in any sphere of Life, hence truly a Life Coach.
You can learn more about Co-Active here :
https://coactive.com/training/
I am a Co-Active Coach® now and PQ Coach ( https://Positiveintelligence.com/program) .
So How will the sessions pan out :
During our session, I provide a safe space for you to achieve Clarity.
From this Clarity, I work with you to discover your strengths, kick off the inner critic, and discover solutions for issues that hold you from achieving your true potential. I am not a consultant, I am a guide for you to discover all the above.
From then onward I will stay few months beside you, then we should part ways; at least from a Coach-Coachee standpoint, because a Coach eventually should make you independent in carrying on with life.
In addition to above, I also run the 6 weeks PQ program .This is additional benefit for my Clients as they get a wonderful powerful tool to engage with their mind in the journey to empower them.
Reviews
Murali Krishna doesn't have any reviews yet.