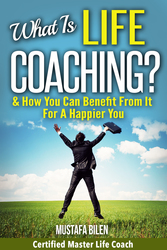 Health and Fitness Coach, Life Coach
MPS (Cornell University), Certified Master Life Coach (American Union of NLP), Author: 'What Is Life Coaching?'
I coach healthy individuals worldwide on better nutrition, healthy lifestyle & wellness towards fuller, happier & more satisfying lives. I am a Certified NLP Master Life Coach. Only online via Skype.
Details

Gender: Male
About Me
I coach CEOs, Vice Presidents, General Managers, Directors, executives, corporate people, business owners, business people, entrepreneurs, employers, employees, individuals, families, artists, musicians, professors, teachers, students, athletes, sportspeople and people from all walks of life everywhere in the world via Skype.
As NLP-trained Certified Master Life Coach, I mindfully listen to my clients for as long as they want to talk. I assess any issues that my clients want to change, what problems they want to overcome and what goals they want to establish, based on which I can help them take action by empowering and motivating them. I assist them to see several paths to take and find opportunities in their lives, also utilizing highly-specialized NLP coaching techniques. My clients have overcome time management issues, stress, anxiety, fears, phobias and lack of balance in their executive, business and private lives. They have improved their executive leadership and business techniques in how they communicate and negotiate with colleagues, business partners and employees, build strong and lasting relationships with friends, family members & partners, unleash and channel stored-up energies to new levels of personal excellence & satisfaction, mind and body health & well-being.
As Certified Master Life Coach (Certified by American Union of NLP), I can help you reach your fullest potential, achieve your goals and fulfill your dreams. I offer 1-on-1 Coaching in the areas of personal coaching, executive coaching, leadership coaching, business coaching, wellness coaching, online coaching, team building and beyond. I hold a Master of Professional Studies degree from Cornell University, Graduate School, Ithaca, New York, and a Bachelor of Arts Degree in Business Administration / Management before that. I served in many senior management, professional and executive coach positions and have more than 20 years of experience in 10 countries (mostly in USA, Germany & Asia).
Reviews
6 reviews (5.0)
"Mustafa Bilen, I speak for my entire team when I say, you truly inspired everyone. We could never achieve the fantastic results we have achieved, without your coaching contribution."

Stephen Moran, Director of Sales & Marketing, Flint, Michigan, USA
"He achieved great results with accuracy and precision. I have no hesitation to recommend Mustafa Bilen to whom it may concern."

Hubert Klemenz, General Manager, Hanoi, Vietnam
"Mustafa Bilen is the best. I would choose him anytime, again and again."

Ronald R. Roy, Vice President, Miami, Florida, USA
"He added great value, introduced new ideas and helped increase our profitability significantly. I would highly recommend Mustafa Bilen."

Jean van Daalen, General Manager, Berlin, Germany
"Definitely, I do recommend to hire Mustafa Bilen. He combines excellent expertise in the industry, a good education, a command of several languages and always a great attitude towards customers and employees."

Miguel Payeras, Executive Vice President, Singapore / Palma de Mallorca, Spain
"I would highly recommend Mustafa Bilen, Certified Master Life Coach at YourCoaching.net to any executive, any entrepreneur, any business person, anyone anywhere in the world, who wants to discover a new perspective to think and act more resourcefully, resulting in much greater personal growth, happiness and achievements in every way possible. It has been a truly empowering coaching experience and one of the best investments I have ever made. After seeing and experiencing the fascinating results of his coaching, I wish I paid him ten times more."

Maxwell Best, CEO, New York, USA
The Smart Way To Find A Coach

1 Describe Your Goals

2 Get Matched

3 Free Consultations
Find My Ideal Coach Now