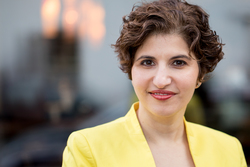 Naheed Oberfeld

Germantown, Maryland
Career Coach, Leadership Coach
BS, MBA, EFT/Tapping Certified Coach
Are you at the edge of the next big move in your career? I can help you uncover your inner passion, motivation, and confidence so you have a map to achieve your professional goals.
About Me
Are you overworked and overwhelmed by the competing demands on your time and energy?
Especially as women, our professional and personal lives are intricately intertwined. When you feel that your cup of well-being is drained, it may seem like you've lost your passion and fulfillment in all areas of your life. Even long cherished dreams and enthusiasm may feel like they're slipping away.
Unfortunately, the message we're given is to work EVEN harder to get everything done. This creates a cycle of frustration, blame, guilt or even doubt in our ability to "do it all."
Are you ready to reverse course and start plugging the holes in your cup of well-being? Relief is around the corner! It starts with the understanding that success is an inside out job. Whether you are in sales and want to exceed your goals or you are in management and looking for more visibility, the key is unlocking your inner confidence and passion. Now more than ever, both need nurturing and attention given the negative impact of past experiences, limiting beliefs, and critical self talk.
My programs will take you from Stress to Success. Opportunities that fit with your skill set will show up. Team dynamics become easier to manage. You'll be hired for the next level position or pass professional certifications you've been putting off. The right clients who value what you offer will show up. Equally importantly, you'll feel lighter, as though a burden has been lifted from you, more confident, and in control of your future.
As a certified coach, I help clients create a life of their desire. A BS in Psychology led to a left turn. I got my MBA and worked in Finance. While that was fun for a while, I yearned for something more meaningful. That led to another left turn that brought me back to where I started, working with our mindset.
Ready for greater success and less stress? Contact me today for a Complementary No Obligation Call to see where it leads
Reviews
3 reviews (5.0)
Naheed has been a Godsend for me. Naheed's approach to helping me started with a genuine conversation. She had an aura about her that resonated me with quickly and absolute connection and trust were formed. I have worked with her for a few months now and my life has never felt more at better. At each session, her energy is at a level 10. She digs deep, I release more, and we work together. Through Naheed's coaching using EFT, my ability to understand why negative emotions are triggered and how to deal with my feelings through EFT, has brought a sense of peace into my life. As I have worked through so many challenges, the sense of living via non-resistance has become a lifestyle. Through Naheed's coaching using EFT, I have experienced a greater understanding of my relationships, business, and finances. My business has increased with clients who believe in my business model, my income has increased, and my sense of need to know exactly where my earnings will come from, have all diminished. Thank you, Naheed. Corliss W.

Corliss W.
I highly recommend Naheed Oberfeld. Her coaching has helped me focus on and overcome challenges to my confidence and enthusiasm to succeed. It was a very positive coaching experience that I feel will help me move toward continued success. -David Craig

David Craig
Working with Naheed helped me uncover a place I was stuck in with a previous business partnership. Now that the issue has been uncovered, Ive seen a new level of energy and enthusiasm for the direction Im pursuing. Once you come to a place of trust and openness, you'll find your creativity begin to take you to places you didn't experience before. Highly recommend Naheed!

Dick Rabil