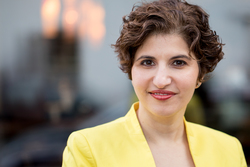 Naheed Oberfeld

Germantown, Maryland
Money and Finance Coach, Entrepreneurship Coach, Career Coach
EFT/Tapping Certified Coach
Looking for more fulfillment and recognition in your career? Want to take your business to the next level? Are blind spots getting in your way? Learn how to thrive professionally and release stress.
About Me
To have greater wealth and well-being in our lives we need to have the mindset for success. Easy right? Yes. IF you have the right tools, knowledge, and you're ready for a change.
I assist corporate employees and business owners who are dedicated, hard-working and eager to move forward, accomplish their professional and financial goals.
Are you stressed and overwhelmed by your desire to get ahead professionally? Or does it feel that you are working hard but churning your wheels and not breaking through an invisible barrier? This can create a cycle of disappointment, or worse, doubt and blame.
I'm here to tell you it's not your fault. You may think you procrastinate, or need more discipline, but the real culprit hides in our subconscious in the form of old stories from the past that taught us to play it safe. Success asks you to step outside of your comfort zone and shift how you view yourself. This can be scary to our self identity. Which is why these mostly unconscious beliefs act as a brake.
My program will take you from Stress to Success. You'll attract the right opportunities. Be hired for the next level position or pass that professional certification test you've been putting off. The right clients who value what you offer will show up at your door step. Equally importantly, you'll feel a sense of freedom, as though a burden has been lifted from you, more confident, in control of your future.
As a certified EFT/Tapping coach for 6 years, I've helped clients release pesky limiting beliefs to create a life of their desire. A BS in Psychology led to a left turn after college. I got my MBA and worked for the NASDAQ stock market and Ernst & Young. While that was fun for a while, I yearned for something more meaningful. I didn't know what or how to achieve it. That led to another left turn that brought me back to where I started, working with our mindset.
Ready to bring more success in your life? Contact me today for a NO Obligation Call to see where it leads.
Reviews
Working with Naheed helped me uncover a place I was stuck in with a previous business partnership. Now that the issue has been uncovered, Ive seen a new level of energy and enthusiasm for the direction Im pursuing. Once you come to a place of trust and openness, you'll find your creativity begin to take you to places you didn't experience before. Highly recommend Naheed!

Dick Rabil