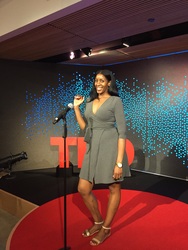 Najah Mustafa

New York, New York
Life Coach, Spirituality Coach, Career Coach
BA, Life Coach, NLP, MNDFL Meditation Teacher Training
I partner with individuals by providing motivation, confidential support, challenge to help them clarify their important values, goals in order to reach higher and create their desired success & life.
About Me
At work, in relationships or anywhere in your life, where you dream of breaking through the constraints to feel free, peaceful and fulfilled, partnering with a coach can help. Together we can develop a clear path to accomplishing your dreams faster.
As a professional ICF life coach, a 16+ year corporate professional, entrepreneur and single parent, not only have I worked with many individuals who seek freedom from the rigor of their daily lives - I've done it myself.
As I look back on my life, I'm very appreciative for being laid off from my corporate job. This happened during an already very challenging time in my life. I had a life filled with adversity. Like many people I meet, I couldn't understand how doing the right things lead me to such a unfulfilled life. I realized after many nights of frustration and fear that I had the power to create the life I wanted. I started listening to myself in my work and personal life and began finding ways to be my best self and live my best life. I became fully present figured out my life's purposes and started enjoying my life journey.
I realized on a deeper level that I can only control myself. I started creating a life that I love internally, which then flowed externally. The impact my new clarity has given me is peace of mind, less stress and a more clear vision in creating my future. I know that everything will workout for me and my clients as we continue to co-create our lives.
Reviews
3 reviews (5.0)
Implementing Najah's program into my everyday routine not only holds me accountable for taking the needed steps towards my goals but also to put myself into a positive routine where everyday I consciously do my diligence. She can help you attain what you want by holding you accountable for your success as long as you take yourself & what you're aiming for seriously. One of the best things about her is that she helps you think outside the box so you have more than one option or route to bring your dreams to fruition.

William, Entreprenuer, Maryland
The worry and angst I felt about where I should be heading in my career and life in general has dropped away. I feel excited and ready to step into my future with confidence.

Vanessa, Lawyer, California
The coaching sessions I've had with Najah have been very positive and insightful. She asks the right questions to get you thinking about what your purpose really is. Najah's calming presence made me feel safe to really speak my truth. Najah also assigns homework and exercises to do during the week to aid in keeping me on track for accomplishing my goals. I look forward to our sessions each week.

Sophie, Business Analyst, New York