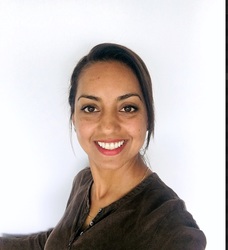 Naranjan Nota

Toronto, Ontario
Relationship Coach, Spirituality Coach, Life Coach
Design
I coach women and men by identifying how the opinions and judgement of others (family, friends, etc.) may deter them from their path and how to meet their goals personally and professionally.
About Me
Can you relate to issues like anxiety, self-sabotage, lack of self-esteem, trust and love, living life on auto-pilot and wanting a healthier relationship with yourself and those around you?
Imagine being in flow with life, where your daily life unfolds with ease and grace, where there is no pushing, resisting or shoving to make things happen. It's all possible - clearing that dense, old, cluttered way of life that doesn't serve you to feel free, open, unrestricted, light, joyful, and authentic. It is a realistic possibility; it is yours to claim.
I combine the mind, body and spirit for a holistic energetic and permanent solution and stabilize, clear and install new principals of empowerment and to learn how to connect to a greater force, your ultimate potential.By changing the behaviours and patterns from a mental space isn't enough to make long-lasting changes in life. The drastic and abrupt changes may provide temporary solutions and interrupt the nervous systems; however, the default is still running in the background.
I was born and raised in England in a loving and caring family who craved the best for me while wanting me to fit their cultural mould. After many years of trying to fit into the normalcy of life as ingrained from my early environment, I quickly recognized it was like fitting a round peg into a square hole. The constant deep dives I did into my own life made me question my purpose, the gifts and talents I have gained, and that is innate within me. Then my soul's voice got louder and louder, echoing that I am destined for something more – something greater.
I've learned over the years everyone has unique gifts, and everything in our life may look like obstacles, when in fact it is a divine gift, an opportunity to tap into something more potent than our conscious mind can even fathom. I've claimed my power and purpose to support, lead and empower you. I am honoured to be your tour guide in this beautiful adventure to reclaim yours.
Reviews
10 reviews (2 verified) (4.8)
Anonymous
I had great experience with Naranjan, it was my first experience with any kind of life coaching or counselling and she was wonderful, was very accommodating to my needs and my schedule. She provided some great insights and some great strategies that I will take forward with me to be successful in my journey. Highly recommend and would use again!

Andrea
I had a great few weeks coaching with Naranjan. She is very concise and our sessions opened my eyes to a lot of things within me that need to be healed. She gave me some excellent tools to use in my journey to healing. I enjoyed our time together very much!

Angela V
Naranjan is truly gifted in her work. She's helped me see things I wasn't able to see in my story, in my energy, in my past, in my struggles...all of it. It's like she can see more clearly than I can at times. It's like looking out a dirty window and she's cleaning it off so that I can see the beauty I am missing.

Katie B
Naranjan took the overwhelm out of meditation. By helping me narrow in on what meditations would be most beneficial for me, I was able to actually focus on the meditation itself and not WHAT I should be meditating on. She was always very present in our sessions and you could tell her recommendations were tailored to my needs, not just generic instructions.

Emma Jones
Naranjan thought she was getting a meet and greet call but I went into full crisis! She was amazing in assisting me to navigate my issue and provided me with the best direction to travel. Her coaching allowed me to reflect on what I needed and let go of things that can not and do not serve me. I Highly recommend.

Nakisha Griffin Bello
Anonymous
Her experience and intuitiveness allowed her to look at the big picture of both of my businesses and create an in-depth marketing plan to increase awareness of my brand, tell my unique story, and illustrate expertise. It's that combination that allowed her to essentially develop the social media element of my businesses when I was lost on where to start. Without this valuable marketing plan, my businesses had no hope to grow because few people were aware of it. As a result, I'm getting more interaction on LinkedIn from companies and individuals and more people are viewing my profile. My Facebook presence has also increased. Most importantly, Naranjan was able to identify challenges created from emotional blockages that affected my success and ability to move forward in my life projects. It's amazing to realize the problems I faced and how I could change things for the better by acknowledging and working on these issues. Issues I wasn't necessarily aware that I had. As a true spiritual intuitive and guide, she was able to communicate these in a way that wasn't judgemental and provided feedback to make healthy changes. We were able to provide inspiration and advice for each other making her a very trusted person in my business and life. When working with her I considered her a partner because of her past experience and guidance. Naranjan is someone I feel I can always reach out to for advice on how to break through some of these challenges because she truly cares about the people she works with and takes the time to get to know their businesses.

Heather Ritchie
Naranjan is a stellar listener and is amazing at connecting dots and drawing patterns from the words you speak, and the ones you don't. I learned so much about myself with her and am eternally grateful for the insight she was able to help me unearth. Not only did we begin to work through some of my long standing issues (it's going to be a journey, but I have some great tools now!), she was also able to help guide me through the beginning of the 2020 Covid Isolation. I'm not sure how I would have fared without her light, and reason. Thank you so much Naranjan!

Carley
Naranjan instantly created a safe space that allowed me to feel completely vulnerable and not worry about any judgement. Because of this, we were able to get straight to work! On a weekly basis we discussed any issues I was dealing with and she provided practical insights and strategies that were simple and effective. I was consistently able to discuss wins each week based on the results of the homework I did. At the end of our sessions I felt more confident, grounded and trusting of myself. I am looking forward to continue working on my spiritual journey with the help of Naranjan.

Jen Narayan