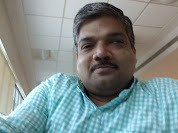 Narayanan Shankaran

Mumbai, Maharashtra
Leadership Coach, Life Coach, Career Coach
I am open to coach anyone who has an interest in reaching their highest potential- the list of clients currently are both from the corporate to individuals, from social changemakers to hi potentials.
Details

Mumbai, Maharashtra
919920950454
Send Message
Hourly Rate: $150 to $200 US Dollars
Gender: Male
About Me
Narayanan Shankaran has been coaching senior leaders, mid-level managers, change makers in the social sector, for the last six years.
Narayanan's approach is build on strong rapport, complete confidence of the clients and thus creating a trust atmosphere with his clients that they open up completely to him, helps them explore their goals, open up to possibilities of growth and help them reach their highest potential.
His coaching methodology is based on high level intuition, self-reflection, deep level conversations, provoking with permission, yet engaging and speaking to the heart, and being a mirror for the clients. He learns through self-introspection and discovering "WHO AM I".
Apart from coaching the above set of professionals, he has keen interest in coaching young adults, in shaping their careers and life besides working with faculty of management schools in building awareness on coaching. Narayanan has completed a mentor coach engagement for an ACC aspirant from Japan.
He had coached and currently coaches entrepreneurs and professionals across sectors- IT product and services, Education, Banking, Garments and Social Sector across India, China, Australia, Japan, Hong Kong,Philippines, Singapore and Malaysia.
Narayanan has completed mentoring for a senior professional from Tokyo.He had created a coaching and mentoring framework during his corporate experience, thus initiating a coaching culture within the Organisation.
Part of the Mgmt Committee with ICF Mumbai Chapter, Country Ambassador for Asia Pacific Alliance of Coaches (APAC),a Ken Blanchard coach and had completed a New Coach Orientation program with Center for Creative Leadership. He had been part of a coaching skill lab for one of his friend's clients.
He had done his post grad program from a business school in Mumbai..
Some of the clients are Tata Consultancy Services(TCS), SAP, National Instruments, Marketplace,associated with Tata Strive as a mentor coach.

Reviews
5 reviews (5.0)
Mr. Narayan was my coach for the period of August 2015 to January 2016. He has good ability to bring out answers from client's own mind. He asks very relevant leading questions. He can read body language of the client very well. During my coaching he relaxed me during the initial conversation and built my confidence more in the skills that I already have. He also encouraged me to look at the other angle of the matter and guided me to develop more global vision. Later on slowly we worked on developing and handling more difficult situations in professional areas. He is a very good listener. He has ability to keep the conversation focused at set targets. His presence at this time in my career is same like saffron in the sweet dish which makes dish more delicious. I am very satisfied with his coaching.

Dr. Rashmi Desai- Ped. Occupational Therapist-Mumbai
Narayanan is one of the best coaches I have ever met and I have gained so much from his coaching – more clarity on who I am and who I am to be both in life and career development. I am impressed by his presence all the time with me as opens a huge arena to explore truth and possibilities in life in great depth and how I could achieve them. I should say he has superb skills in listening and questioning. He is always able to hear the meaning and intention behind the meaning and intention and I would always wonder how he could make it. Coupled with his seemingly gentle but actually powerful questioning he is always able to inspire me finding what is at core and build up the energy and momentum for concrete actions. All in all, he firmly holds the belief that I am always ok and resourceful. It is a wonderful journey and experience together with Narayanan and I would highly recommend him for coaching service.

Clark Sun- Sr.Manager-Learning and Development- China
I'm delighted to have hired Narayanan as my Mentor Coach. He identifies coachable issues with a laser focus, cutting through complexity with succinct, powerful and empowering questions. I have no hesitation in recommending him as a masterful, no-nonsense coach.

Michael McCoy- Executive Coach-Japan
Narayanan has been my coach over 4 sessions spanning across 2 months. I had a great experience while interacting with him. Narayanan made me open up and I could share with him all the career hurdles that I was facing. He helped me gain new confidence and made appear everything so easy. Narayanan is a good coach and quite friendly. He carried vast experience which was quite beneficial for me and helped me taking bold decisions. Narayanan had been very sincere, punctual and quite professional! I wish him good luck and looking forward to interact with him again in future! Thanks Narayanan for being a good coach for myself and many others!

Dhaval Shah- Consultant- Mumbai
When I started working with Narayanan my life was little out of control both personally and financially. I was targeting too many things at one point of time. With Narayanan's help and support I cleaned up my act and set some specific goals. As a result I am now managing my finances more effectively, feel in control of my work and home environment . Coaching with Narayanan has definitely been a worthwhile investment. Thanks Narayanan for being with me.

Hemant Vasudeva-Senior Manager - Solution Engineering Team ,Mumbai