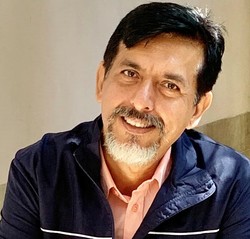 Naresh Tanwani

Bangalore, Karnataka
Leadership Coach, Life Coach, Executive Coach
ICF Certified Coach, Positive Intelligence, Mental Fitness
Senior Leaders in organizations and Entrepreneurs. Is stagnancy eating your mental peace? Grow meaningfully in your Professional & Personal pursuits, with guaranteed fulfillment and happiness.
About Me
As a Growth & Fulfillment Coach, I work with Senior Leaders in organizations (CXO, VP, Director) and Entrepreneurs, who seek to Grow meaningfully in professional and personal pursuits, while balancing it equally with fulfilment and happiness.
Do you find yourself having hit the ceiling, stagnating in life options, either or both professionally and personally? Do you feel that life has become a mere race, with always something lacking that leaves you feeling unfulfilled and incomplete? You say yes to too many things, and you don't take time to take care of yourself, as you've failed in setting priorities and boundaries in your life.
This is where my coaching comes in. I understand why only 20% of people achieve their true potential. After working with Shirzad Chamine, a Stanford lecturer with a comprehensive 500k global research study, I can show you how to significantly increase your growth opportunities, relationships and overall happiness. Rather than coaching the symptoms, I leverage my Positive Intelligence training to work on the root causes that sabotage your desired outcomes.
My clients constantly tell me how feel about their life changing from a lockbox into an expansive and fulfilling experience every day. After working through my program, they recognize that life is non-linear, if something is slowing down then there are many other aspects that are blooming. They become surfers moving from one tide to another and constantly growing and expanding with joy.
I am a professionally trained and ICF certified Leadership & Life coach with 25 years of Corporate and Entrepreneurial experience.
I have lived a non-linear life full of trial and errors, resulting in rich variety of work and life experiences. I take equal pride in sharing my successes and failures.
I leverage from many life stories and varied interests in Travel, Trekking, Scuba Diving, Music, Photography, Sky diving, Biking, River rafting, Yoga and Meditation.
Reviews
7 reviews (5.0)
While I was struggling to manage work-life balance and stress I requested Naresh for his coaching and with 6 weeks of systematic approach, I practiced many techniques in my day to day life which increased the happiness in life, peace of mind and clear headed thoughts with lasting impact. Whether it is strengthening my mental muscles or winning over my saboteurs or use of 80-20 rules, all gives instant results. Naresh flavors his coaching through life case examples, always very easy to grasp with lasting impact in my life. I say it giving life a turning moment. Thank you Naresh for being such a wonderful human being and coach. Bibhuranjan Das, Management Professional in Organization, Bangalore

Bibhuranjan Das
Just before my coaching with Naresh, I was shy, less focused and not so happy with the situation in my life, that appeared to have stagnated. Within first 6 weeks of coaching with Naresh, I could see miraculous changes in myself. His rich coaching experience, non-judgmental approach and use of various tools and techniques made the transformational change. I have become more confident in my approach than ever before.The new inbuilt confidence has bought more focus on my work. My personal relationships have become stronger than earliest through better understanding of others perspective. Last but not the least I have started admiring myself as i always kept myself aside and gave everyone else the priority. Self love has renewed my approach to life. Pratibha, Teacher & Entrepreneur, Raipur, India

Pratibha Pandey
Covid-19 Pandemic hit the world severely and so did each ones life. I was one among them. I am teaching in a pre-nursery school as I had lost all other options due to 2 young kids. Online teaching was getting on my nerves as I felt nervous teaching kids in front of all the parents. Kids at home and their classes online too were a total mess. Signing up coaching with Naresh turned out to be a blessing. It worked magic. My nervousness was gone and I was able to handle kids much better. My performance shot up, I could intercept my saboteurs effectively that eradicated my stress levels, my relationship with family and near ones flourished again. With all that positivity I started attracting better things in my life. I could meditate better than before. I got better opportunities and finances improved. What better could I ask for. Jiya Chandiramani, Teacher, Raipur, India

Jiya Chandiramani
I could not focus on my business for quite some time and was completely distracted with broken relationships. Nothing was going in right direction after spending numerous hours each day at work. Business was not showing any positive return. The turning point was my decision to get coached by Naresh. Within couple of months I started to unclutter and elevate out of the crisis. Naresh helped me to prioritize, using his 80-20 formula my worries started to vanish. I work much less hours daily at present, but business outcome has grown multi-folds, and relationships are flourishing. Dyutiman Bhattacharjee Entrepreneur, Kolkata

Dyutiman Bhattacharjee
I was battling acute stress, driven by job uncertainty, when I came in contact with Naresh and signed up for coaching with him. Mentally, I was in a painful mess. After joining Naresh's coaching, within couple of weeks I was able to feel a sense of peace and tranquility. I was able to focus on my work without bothering about the future. I have felt a dramatic change in my way of thinking and attitude towards everything that used to bother me. My output and quality has undergone a remarkable change. Now I also spend quality time with my family, particularly the children's. Jay Prakash Yadav Journalist Delhi

Jay Prakash Yadav
Hi ! much before i started to work with Naresh, i was in a mess . My business was barely making a positive return ,and i was spending 14 hours days , 7 days a week just keeping it afloat . After working with naresh for 6 months , i have been able to double my revenues and increase profits by 80 percent . naresh helped me prioritize my most important tasks and i now spend only 8 hours a day at the office and have my weekends free to spend with my family . Thank you naresh for being a wonderful human being and coach . Girish Kashwani . Founder - PK consulting , Pune.

Girish Kashwani
Anonymous