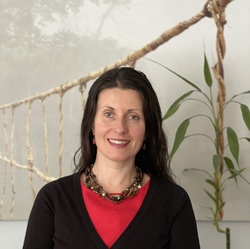 Natacha Le Norgant

Calgary, Alberta
Life Coach, Career Coach, Relationship Coach
ICF Certified Coach, B.Ed
I coach students & professionals who find themselves in a life transition or know they need one. Whether personal or career related, I can help you through your transition with clarity and confidence.
About Me
I am an ICF Certified Coach with a solid background in relational communication and several Wellness modalities. I am passionate about the world of Wellness & Human Development and I am known for my ability to relate, establish trust and inspire people.
My numerous trainings in the world of Mindfulness, Meditation, Yoga, Ayurveda and Natural Nutrition are also great assets in helping people find their Balance & Wellness.
Why work with me?
No matter what's on your mind,
* I will be here for you. I will listen to you and partner with you as a "Thinking Partner" in a place of unquestionable and non-judgmental trust & confidentiality.
* I will be asking you some pertinent and at times challenging questions, in a safe and comfortable space. In doing so, I will help you connect ideas and patterns, emotions and blockages, and uncover potential assumptions and limiting beliefs.
* By bringing about more clarity and self-awareness, you will be able to feel better about your situation and the various opportunities & possibilities in your life.
* I will support you in identifying your new goals and first steps towards a new phase in your life.
What do you want to create for yourself?
Let's explore together and take the first steps.
* Let me help you re-discover what is in you so you can shine towards New Horizons. Stronger, empowered, energized and confident, moving forward.
Complimentary Discovery Call
I would enjoy talking with you to answer any of your questions. Please contact me via the "Request Free Consultation" button above or via my website form or email for a free 10 to 20 min. Discovery Call. It's completely confidential.
Reviews
4 reviews (5.0)
I have nothing but positive things to say about my coaching experience with Natacha. She was very calm and patient as she listened to me. It was very refreshing to have someone listen and ask reflective questions rather than provide advice and opinions; the experience was mine and Natacha never impeded on that. She listened and responded positively to my comments and questions, I never felt judged. I feel I was easily able to open up and discuss my experiences. Natacha created a trusted space for me to reflect on situations, questions, thoughts and ideas. I can now identify the positive learning that came from it. I loved that I was able to discuss my thoughts, feelings, emotions in both French and English language as Natacha understands this is very important to me. I left the session feeling much better about my future plans and felt prepared to take the next steps needed to reach my goals. Natacha has a natural way of boosting one's self-confidence and I cannot thank her enough for her continued support!

Sara Currie
I thoroughly enjoyed my coaching sessions with Natacha and those Eureka moments after she helped me find the motivation to step out of my comfort zone. She found ways to inspire me and to raise my self-awareness so I could have a clear line of sight of my untapped potential. If I have to say one thing, it'll be Natacha's ability to keep the narrative consistent to build that needed momentum. Her style makes you own each discovery about yourself, with confidence.

Carlos Jimenez, PEng.
Natacha coached me to find back my passion, my expertise, and have the courage to pursue it. I changed my ways, moved, and am following an opportunity that challenges me! Thank you.

Andrea Panzeter
My first Life and Wellness Coaching session with Natacha was wonderful. We started the session with a breathing exercise, which made me feel very relaxed and comfortable. Right from the start, Natacha asked me great questions, which really made me think and it turned out that I had a lot to think and talk about! I loved Natacha's calm and understanding demeanor and felt very secure and able to open up. What I liked about the session was the time that it gave me to reflect on some beliefs that I have been carrying around with me for a very long time. I appreciated Natacha's questions to find out more about my thoughts and beliefs. It allowed me to discover some great strategies that I can use moving forward. She also suggested some additional resources that could be of support for me through my transition. I can't wait for my next session with Natacha and already recommended her to all my friends and coworkers. Thank you so much Natacha!

Marta