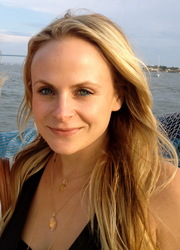 Natalia Dugandzic

Redwood City, California
Life Coach, Performance Coach, Executive Coach
BA, Co-Active Coach; Master NLP Practitioner; Practitioner in Circling; Certified Yoga Teacher since 2007
I help professionals who are struggling to focus and feel frustrated and overwhelmed. I'll help you get out of your head and into your life ... Curious?
About Me
CHECK YOUR MINDSET
"Becoming a leader is synonymous with becoming yourself. It is precisely that simple, and also that difficult." — Warren Bennis, The late pioneer in Organizational Leadership
To keep clear the minds that are here to do great work.
I am an Executive Coach using seasoned and learned theories focused on leadership and life coaching. Together we will check your mindset, evaluating what no longer supports you, in turn facilitating the results you want. The speed of getting there is up to you.
I am a Certified Practitioner in NeuroLinguistic Programming, a Practitioner of Circling (Authentic Relating) and the Co-Active CTI Institute Model of Coaching. BA, Communication from St. Mary's College.
Reviews
9 reviews (1 verified) (5.0)
Much better than what I expected. Natalia opened me like a book on the first session. She has been healing my deepest wounds by allowing me to express myself authentically. Truly a life changer. Definitely recommend this for anyone feeling stuck in life.

Alexandre Boulos
Throughout my sessions, it's as though she is speaking from a 30k foot view. It helps me make sense of what feels like a chaotic and uncontrollable mess down on the surface. I receive clarity, humbleness and direction through our sessions. I know "the work" is up to me, and I feel fully supported by this partnership to confidently get there myself on a day to day, minute to minute basis.

F.Z., Music and Artist Manager
I kept feeling like, "how did she know that?!" Basically, I don't know how she knew what she knew .. Regardless, she left me with such insight and strength to take small baby steps forward. For that, I am forever grateful.

J.M., Real Estate Agent
Natalia is a natural. She left me resonating with a deep sense of confidence to execute on the next steps of building my new career. Her enthusiasm is contagious and filled with depth. The session flew by as I felt like I was talking to an old friend of 15 years.

B.U., Technologist & Entrepreneur
If fierce courage, a wise spirit, and kindness are the qualities that one seeks, they can find them in abundance working with Natalia. She shows up as her FULL self with everything she does, adding tenacity and vibrancy to even the most colorless canvas. She is a wise coach and imparts her wisdom through provocative questioning and wholehearted support. Completing coach certification with Natalia allowed a deep professional relationship to flourish, and a friendship to follow afterward. She is the whole package, if you're looking for growth opportunities in your own life.

CL. G., Learning Specialist, Consultant & Coach
She spoke to my essence. My purpose. My unique alien human self. The piece that makes me feel excited and alive to be here versus ashamed, alone and lonely.

A.W., Human Resources Business Partner at a unicorn StartUp
The concept I came with was so abstract and I'm left feeling like I have a plan now. I was feeling so lost and now I have direction. Hopefulness is locked in. I can take steps forward now. Thank you!!

J.C., Director of Operations at Facebook
Natalia's ability to "zero in" was my forefront of mind things .. meaning, she zeroed in on two significant issues. Also, identifying problems is one piece, how do you start moving in one direction is another. It's not as linear as you would hope, but the step driven accountability piece was super helpful. Overall, great experience. I would do it again.

S.H., Programmer & BioTech StartUp Co-Founder
I've received more impact and insight in this one session than with the many sessions I've had with my PhD Therapist who's been around the world.

M.M.; Musician