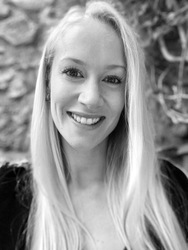 Nathalie Nebeling

Zurich, Canton of Zurich
Relationship Coach, Life Coach, Spirituality Coach
BA, Business Management, Life Coaching Diploma, Continuing Professional Development Member
DISCOVER STRENGTH AND CONFIDENT. My mission is to help you design the life you actually want to live. Eliminate time wasting activities and implementing habits that helps you to achieve your goals.
About Me
IT STARTS WITH YOU
Are you tired of feeling limited, out of control and constantly behind on your achievements in life?
The trick is not to wish it was easier, but to wish you were better.
Be the solution!
REFRAME
When we change the way we look at things, the things we look at change. Shifting your perceptions by reframing your questions. The answers that life presents depends on the quality of the question we ask.
EXAMPLE
The answer you get when asking:
- How come this is always happening to me?
Is very different to the answer you get if you reframe the question:
- What can I do to be more successful in life?
NEW PERSPECTIVE
Together we will retrain your brain to look for solutions instead of evidence for problems.
HABITS
Eliminate habits that prevent you from moving forward and implement habits that will help you achieve what you aspire to accomplish.
OUTCOME
- Feel more confident and in control of life
- Find answers to empowering questions
- Take actions to move towards your goals
CONNECT
I'm looking forward to connecting and coaching you on your journey of living life by design instead of by default - the secret towards A Happier Lifestyle.
x Nathalie
Reviews
6 reviews (5.0)
Natalie has been one of the most inspirational coach I worked with. She has the ability to use powerful questioning techniques to get into deeper understanding of the issues. She has helped me immensely with her coaching and I have been working with her for last few months. She has helped me to see different perspective on the issues I was facing and taught me how to reach the desired results with different approach! I highly recommend Natalie as a Coach and anyone who is struggling in life then Natalie is your go to Coach! Thank you Natalie, you have been wonderful! :)

Sadaf
Nathalie is a superb coach. She works exceptionally hard to help you identify your goals (not always as simple as it seems), and the factors that may be holding you back from achieving them. She is clever, kind and creative. She really cares about those she coaches, and her positivity and encouragement are genuine and effective. She is also good at productively challenging limiting thoughts and behaviours. She doesn't use jargon, and she listens intently and patiently. She helped me make some very positive changes to my mindset, and to my workplace behaviour--I have gained much from making them. And as well as being an excellent coach, she is a lovely person, and it is always a pleasure to talk to her. I cannot recommend her enough: Nathalie Nebeling is a truly outstanding coach.

Julia B
Nathalie embodies light. She guides with kindness and understanding whilst allowing you to be present, vulnerable and your true self. She has a deep desire to help each person that enters her life to reach their full potential and learn to prioritise themselves. Nathalie has been both an exceptional friend and mentor. Anyone who invests in time with Nathalie will forever be grateful and will most certainly live a happier lifestyle.

Julia Kerr-Peterson
I am in absolute bliss over how Nathalie transformed my life and helped be build inner strength, resilience and crush my limited beliefs :) She helped me improve my relationship, both with my partner, and most importantly where it all starts, the relationship with myself :) She has a warmth and strength that is truly contagious and inspiring :)

Nicole
Nathalie helped me turn my life around. I feel stronger, more productive and more confident. When I started to look for a coach I was unsure what exactly I needed help with. I felt like I needed help with all aspects of my life. I was overwhelmed with work, I constantly felt behind. My partner had left me, my father passed away and I was left alone feeling lonely and lost. Nathalie came into my life as an angel. She guided me on the journey of coming back to life. Nathalie gave me concrete advice each week, small simple steps that I could implement which helped me manage my time better. I slowly started to feel like I got more things done which make me feel less stressed as I was no longer that far behind. Even though I am a manager I never felt comfortable delegating tasks to my team members. Nathalie helped me categorise my to-do list with the 4 Ds in mind: Delegate, Delay, Delete and Do. I used to work as an operator but Nathalie helped me to build up my confidence to be a leader for my team. I can not recommend Nathalie warmly enough!

Judy Nguyen
Before I started working with Nathalie I was a mess. I was constantly stressed and had difficulties getting the work done on time without working on weekends. I was at the bottom of my priority Iist, I felt depressed and had no energy to do things outside of work. I have now worked with Nathalie for 5 months and my life has turned around 180 degrees. Nathalie has helped me with my priorities, which made me realise that I was spending major time on minor things. After reallocating this time on more important tasks I no long have to work weekends to get the work done in time. I feel less stressed, more focused and more in control of my life. Nathalie helped me understand that it all starts with me. I am now first on my priority list, I have more energy than ever, I do more, smile more and give more. I can truly say that I am proud of the person I am today, something that I would never dream of saying just half a year ago.

Sarah Williams, London