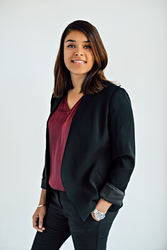 Nausheen Saumtally

Brampton, Ontario
Performance Coach, Leadership Coach, Entrepreneurship Coach
BS, Certified John Maxwell Coach, Speaker and Trainer, DISC Behavioural Consultant
Are you feeling overwhelmed in your career or business? Or maybe feeling stuck in a job you don't like? We'll use your unique strengths to regain control and find the right action path for you.
About Me
Are you feeling stuck in your career and would like to move on or move forward? Are you struggling in that new role because expectations are higher and you're still adapting to the change? Or maybe, you are new to leading a team and feeling stuck in your leadership?
Perhaps, you're feeling the pressure from your boss or HR for better performance? Or simply, you don't feel connected to what you are doing and maybe you are looking for a way out? Is your team not responsive to your leadership or perhaps you don't feel comfortable being the 'authority' figure?
The answers to all of these questions are found within you, because you have it in you to succeed and achieve whatever you put your mind to. The reason you feel that way is because your focus is not in the right place and this is what stress does. It deprives us from seeing what we can do and limit our abilities and capacity. Sometimes, it takes a little support and guidance to bring it out, and that's I help my clients with.
Through my 'Empower your potential' program, I take my clients from getting clarity on what is truly happening, to building their confidence in managing it and actioning on the steps to get to where they want to be.
My clients often comes to the realization that the solution was in fact right in front of them, but having the right support and guidance through my approach helped them see and at on it. They are left feeling empowered!
As a certified John Maxwell Coach and DISC behavioural analysis consultant, I'm equipped to take you on this journey of self-discovery to solve your challenges by leveraging on your strengths. My experience working with many people all over the world as a business development manager at Microsoft, helps me understand my clients at a deeper level and connect with them effectively.
Reviews
4 reviews (5.0)
I enjoyed every conversation, Nausheen is an amazing coach who challenged me and helped me see my options. She helped me look at things from different perspectives and reach my full potential. Always fully committed to the session, listened and was there for me to help. I highly recommend working with Nausheen.

Firas
I worked with Nausheen recently as she coached me on leadership development. One aspect of her coaching that I really appreciated was her ability to quickly understand me and my gaps after just a few calls. This made it easy for her to provide constructive feedback and identify opportunities for improvement that I didnt see. Our coaching sessions were perfect in that our conversations always flowed well because she always knew how/wheres to lead the discussion and I would find myself feeling a bit uncomfortable (in a good way because I knew she was challenging me and I was getting better). She has a wealth of knowledge and experience that gives her a unique perspective. She is a natural coach. Highly recommended.

Anonymous
I was only able to work with Nausheen for a short period of time (a matter of several months). However, at the time, I had a number of obstacles to tackle at work. Nausheen provided excellent support. She was great at asking a lot of questions, helping me to uncover the source of my own issues and then we could brainstorm together solutions. She was a great external sounding board who brought an honest, third party perspective to what I was going through. She made a lot of time for me - I was able to meet with her as often as I felt I needed. In a nutshell, the experience working with Nausheen was very positive.

Jen Curry
My company introduced me to Nausheen Saumtally as part of the executive leadership development coaching program. I initially didnt understand the need for an executive coach. But as the old saying goes, "you dont know what you dont know"! Nausheen gave me a completely different point of view. With her help, I was able to identify leadership areas to work on and was able to recognize where I could improve myself. People say change is hard. It is, but it is much more achievable when you have Nausheen as your coach to guide you through the process. Her energy and enthusiasm is contagious. I attribute a lot of my success in navigating a difficult period in my career to Nausheen. I am a big fan of her remarkable ability to ask exactly the right questions to elicit deep self-reflection which ultimately led to very positive change.

Rafael Tercarolli