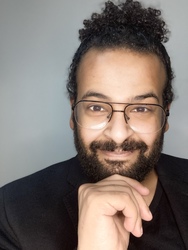 Nawaf Alharbi

Riyadh, Ar Riyad
Career Coach, Life Coach
CIPD Level 3 & 5 Associate Degree, EQi 2.0 Certified Assessor, NCDA Career Facilitator.
I Work with talented & curious creators to explore their passion. I help my client discover their calling and build the path to express it through a value based profound approach.
About Me
Don't we all go through the dilemma of continuing on our career or changing to a new one? Some of us even experience the anxiety and burnout associated with being stuck in a role that we know is not our calling.
I assure you that it doesn't have be in that way. You can definitely build a new transition road map to your new passion and begin to explore the journey that leads to where you want to be with confidence, patience and resolve. One common reason for experience career-related stress is not defining what you want and not digging deep explore your calling.
With my Passion & Career holistic coaching approach, we will begin to draw your passion plan, which is backed by your life values, and explore the potential within using multiple assessment, practices and coaching where we will define barriers, potentials, merits, etc...
One of the common phrases I keep hearing from my client is: "I never knew that potential was all in me" or "That missing reason is what a needed to move on." There is a power that comes to us when we know what comes next. My client enjoy the power of making their "what comes next" by themselves !
Having worked in the Talent Acquisition HR field for more than 9 years and studying CIPD degree that established the foundation for understanding my path.
But it was my Coaching degree, my EQi 2.0 emotional intelligence certified assessor knowledge and my Career facilitation degree that inspired me to know the "know how!"
Why? Because I was there in your same exact shoes. Where I decided to end the anxiety, burnout and stress of my unwanted previous career and choosing to be in this path.
Reviews
This is my second session with Coach Nawaf, I like that his approach is hands on and energetic. during the sessions we switch the pace between doing exercises and reflecting on what we discovered. The sessions was fun and time passes so quickly. I feel much better now about my career because I have the knowledge and the understanding of what works for me and what doesnt. Also, I like that he take the effort and follows through after the session, which is awesome because it keeps me accountable. I recommend taking sessions with coach Nawaf for anyone who feels stuck in their career and in need for clarity.

Haya Fahad