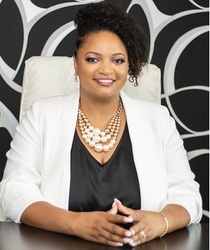 Nefateria Robinson

Durham, North Carolina
Business Coach, Christian Coach, Entrepreneurship Coach
BA
Are you an unclear Go-Getter who is building a business on the side? If you want to get clear on your ideal clients & get confident in your services my Clarity to Cash program is for U!
About Me
I coach Parallel-Preneurs: Go-Getters who are building a business alongside their career, like you.
The only problem is you are not clear on your ideal clients and you are not confident in your services.
You deserve to have a side business that is a thriving income, Clarity to Cash™ Blueprint shows you how.
Are you:
-Struggling with finding the time for your business, as if time actually flys
-Trying to balance your professional life and your business but feeling like you are riding a unicycle, with a stack of dishes in both hands, and one hiccup all the dishes will come tumbling down.
-Attracting less than ideal clients... as if you swiped right for freebie seekers, tire kickers, or price negotiators
-Worried about coming across as a pushy used car salesman when selling your services
Imagine having the choice to leave your career
What if you could…
-Establish a business schedule that allows you to build your business AND spend time with your love ones
-Create balance based on priorities instead of trying to do everything
-Appeal to your ideal clients in a way that you and your service are the ONLY choice
-Clearly and Confidently articulate the value of your services that your prospects are saying where can I pay
That's the exact reason I created Clarity to Cash™ Blueprint
TO TAKE YOU FROM UNCERTAINTY
TO A DIAMOND CLEAR AND CONFIDENT
WAY TO THE CASH!
Unlike other business coaches, I inspire you to ACT (Activate Faith, Commit to a Plan and Take Action) by applying a direct approach with simple steps you can implement resulting in what you desire for your coaching side business…MORE CLIENTS!
Let me help your increase your clarity, your confidence, and your cash in 90 days or less.
Clients say:
"She shook me when needed and supported me all the way!"
"She truly cares for her clients and are invested in seeing them succeed."
"I love the fact that she is a woman of God and prays for me."
Apply now
Reviews
When I first started with Nefateria I was hesitant due to the level of financial investment I would have to make to experience a transformation of my business. But I took the leap of faith anyway and I will be forever grateful I did. I really needed Nef to help me think critically and intentionally about who I serve, what I serve, and how I serve. I also wanted to narrow down my exact ideal client, my process, and fix my selling mindset. As a result of working with Nef, I have truly gained confidence, clarity, and cash. I know who I serve and how I serve them, I have increased revenue in my business, and I value myself more to know what I offer and what I should charge for my services. I also now have a clear process, clear pricing model, and several new clients. She even offered me an effective Discovery Session template that helped me gain new clients, and she gave me advice on how to improve my website. My favorite part of Nefateria's program was the weekly check-ins. It was so useful and valuable to have someone, who understood me and my business and had my best interest at heart, to bounce marketing ideas off of, ask for advice on dealing with a client, introducing a new service, etc. I highly recommend the Clarity to Cash program because it's everything you need as a foundation to start a successful business or to get back to the foundations if you've been running your business for a while. For me, I definitely found clarity and confidence. I went from overwhelmed, afraid, and insecure in the beginning of my business to now being secure, confident, and optimistic. I was also able to overcome my insecurity when trying to make a sale. I used Nefateria's selling advice and strategies and just decided to go for it and it paid off. I gained confidence and I gained higher-paying clients. It is important to know that Nef, which you will lovingly come to call her during your time together, is God-fearing and her Christianity plays a huge role in working with you. Again, I am so glad I invested in myself and my business by choosing to work with Nefateria and I can honestly say I've learned things I will take with me and my business forever.

Marlaya Ross