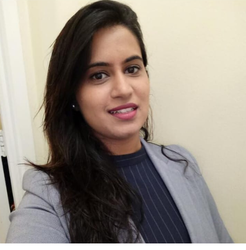 Neha Garg

New Delhi, Delhi
Relationship Coach, Life Coach, Spirituality Coach
Certified Life Coach, Certified Relationship Coach, Certified Relationship Workshop Facilitator, NLP Practitioner
I coach people who want to be in a happy and healthy relationship/marriage. I also coach people who are healing from a heartbreak and struggle with being alone. I also help people find peace of mind
Details

New Delhi, Delhi

+91-8700147505

Send Message
Visit Website
Gender: Female
Training: Transformation Academy, New Skills Academy
About Me
Most of the stress in our lives comes from just one thing- by not caring enough for our own self and not honouring our own feelings in most circumstances.
In fact, the way we grow up in the society, mostly, we are not even made aware of our sense of self. No one tells us that just like there are people outside of you with whom you interact with, there is one inside you too.
My first coaching technique is all about making you meet your inner self.
It is absolutely possible to have a happy and healthy life filled with joyful, meaningful relationships if you really know and love yourself.
So if you are generally feeling anxious in life or facing struggle in handling your personal relationships, please feel free to reach out to me so we can take you on your journey towards happiness and love.
I was a Lawyer by profession. But I decided to become a Life and Relationship Coach after I emotionally healed myself with the help of other coaches which helped me find inner peace and a balanced happy life.
I have specialized in Relationship Coaching because the overall sense of well-being of a person depends on the quality of his personal relationships. I have now dedicated my life in helping people find love, fix the troubles in their love/married life and help them find harmony in other personal relationships also with family, friends etc.
My coaching programs are usually 3 month or 6 month packages since life transformation takes that much time. But we can customize them according to your personal requirements.
Please book your first free session to see if we are a good fit for each other. I look forward to helping you on your journey :)
Reviews
3 reviews (5.0)
I came in touch with Neha to manage my stress and anxiety but got so much more in return. I was someone who constantly felt overwhelmed. I used my anger as an expression of stress release. I was hospitalized due to a bad episode of a panic attack. After consulting with Neha, I was able to balance my life and engage in positive self-talk very often. I feel so happy and relaxed now. I am extremely grateful to Neha for helping me meet myself again.

Bulbul
My experience with Neha was extremely positive and rejuvenating. She is a naturally understanding person and a kind hearted soul who helped me in a way which has been a transformative experience. Having many failed relationships myself I was struggling with trust issues but coaching with Neha helped me develop a sense of self worth and self love and a deep understanding of the perils of being in a co-dependent relationship. I am grateful to Neha for leading me on to this journey of emotional healing.

Stuti Gopal
I was struggling with self esteem issues and having many failed relationships. But coaching with Neha tremendously helped in finding out that I tend to lose myself in relationships and that's why they fail. She helped me massively with my self worth issues and fear of loneliness. She made me understand the real meaning of self-love. I am very grateful to Neha for leading me on my journey of emotional healing

Celly