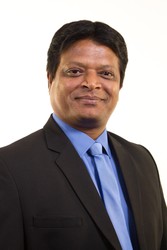 Nelson Negi

Mumbai, Maharashtra
Business Coach, Leadership Coach, Performance Coach
BComm, MBA, Coach Trainer, Certified Professional Coach, NLP & Neuro Semantics Coach, Diploma - Entrepreneurship & Business Management, Six Sigma Green Belt
I coach entrepreneurs, business owners and executives to BE the person, who can DO what it takes to reach the HAVE (the goal). I work with them to create and execute multiple achievement strategies.
About Me
BE-DO-HAVE is the philosophy which is at the heart of Nelson's coaching. When you build & develop within (BE) the required skills and competencies which will enable you to execute (DO) your plans and strategies effectively, then will you go on to achieve (HAVE) your goals. This model not only makes you an achiever, it gives your ultimate satisfaction, fulfillment and happiness because you have congruency in the entire process.
He uses the NLP pattern 'Well Formed Outcome' which helps you set the right goal, set it correctly, break down the process in small chunks so that they are doable, make sure that your goal and process is ecological and does not harm you or your loved ones. And most importantly, you align your NEUROLOGY with your goal. If you don't, your own neurology (internal forces like beliefs, values, thought patterns, emotions, etc) will become barriers to the goal achievement process. Hence, it is unlikely that you will reach your ultimate goals.
Nelson ensures that you don't have barriers within and ensures that you are fully prepared to embark on a successful journey towards achieving great goals.
He helps clients create robust goals, make them achievable by careful planning and execution. All along the way, he supports them in course-correcting to ensure you reach your goals as fast as possible.
He inculcates various models, tools and techniques in his coaching process to make all required resources available for the clients to become goal achievers.
Nelson has trained and mentored many successful coaches.
Nelson is a Certified Professional Coach (ICA), Member of ICF, Coach Trainer (ISNS), Master Practitioner NLP, MBA, Six Sigma Green Belt and Entrepreneurship & Business Management (Dip). In the past he has worked in management positions in medical, IT and NGO sectors. He is a member of the Global Leadership Team of Congress WBN an NGO working for human development in 120 countries and is the CEO of Tekton NLP Coaching & Training.
Reviews
4 reviews (5.0)
I have had several coaching sessions with Nelson Negi. Below are the reviews of some of them: 1. Growth in Business: I am an Interior Designer and my business had plateaued before I did some coaching sessions with Nelson Negi. In the session Nelson Negi worked with me on some beliefs which had in me and I was not even aware of them. These beliefs were stopping and blocking me from doing some things in business. I had lost confidence in myself. I did not have boldness to assertively talk to my clients. After coaching I had a new belief system and my perspective towards business radically changed. Now I am able to approach my clients very boldly. My skills in designing have improved and now I get more creative ideas which is the most essential factor for the success of my business. I feel I am full of confidence in the way I do my business and work with my clients. My business has seen a lot of change since then and I feel I am successful in what I want to do. I have new clients approaching me because they see my work in my clients places and want me to design their houses and offices for them. 2. Overcoming Fear: I had developed a phobia of the sound of trains. This happened after a very close person to me died in a train accident. Whenever I used to hear trains pass by at a railway station or railway crossing, just the sound and sight of the moving train used to trouble me. I used to panic and become disoriented. I stopped traveling by train because I could not bear that strong negative feeling. This started affecting my normal life in negative way, which in turn started affecting my business. In one of the coaching sessions with Nelson Negi he took me through a very simple exercise, and in few minutes I got rid of that phobia for good. Now I am no more troubled when I hear the sound of a train or see a train passing by. I can also travel by train with ease and comfort. 3. After series of deaths of very close people in my house I had developed a compulsive emotional disorder in my life. I used to have a mixed feeling of depression, loneliness, hurt, feeling of terrible loss and feeling of giving up on life. This had a very negative impact on the flow of my business. With every other death in my house this mixed feeling only increased in me. I felt suppressed and blocked in life and business. After NLP coaching with Nelson Negi I was completely released from that compulsive ill feeling. Nelson Negi took me through a process of Time-Lines in which I felt like I am flying in the skies like a free bird. Now I don't have those kinds of uncomfortable feelings and I feel completely free and happy. This has positively impacted my business and I can now not just focus on my business well but also do it joyfully. 4. Unconscious Behavior: I had a strange unconscious behavior which I exhibited very often. I used to unawares rub my eye with my finger. Doing this at times used to hurt my eyes. I didnt know why I did so and had no clue as to how to get rid of it. This behavior at times was a reason of embarrassment to me before my clients. In a coaching session with Nelson Negi, he took me through an NLP exercise which stopped this behavior completely. I no more have that behavior as a part of me. That exercise changed my subconscious structure.

Sharayu, Interior Designer, India
I work as a Lead Network Engineer for a US based company. In my job I am required to coordinating with many clients. I found it very difficult to communicate effectively with my clients and had low confidence. Since I work remotely, it is essential for me to communicate effectively with my clients who are from different parts of the world. After being coached by Nelson Negi I experienced a great shift in the way I communicated with my clients. I had a new set of frames of mind, and beliefs. This brought a lot of boldness in me and as a result improved the way I communicated with people. When the blocks were removed from my mind I was able to think beyond what I used to think. Now I come out with excellent creative ideas in my work place. My communication has become strong and now I boldly approach my clients. At the same time along with my work, I am now able to manage other side businesses too which has increased my income. With these new skills I am able to run my business successfully. Earlier I never thought I could do a business while being employed. Nelson Negis coaching sessions have helped me a lot in my life.

Ravi Kamble Lead Network Engineer India, Pune
I was extremely traumatized and entered into depression and compulsive mourning because of the sudden death of my husband. There was lot of hurt and worries in my heart. Coach Nelson Negi helped me with NLP coaching to come out of that situation. In the coaching session he guided me to bring some specific things on the screen on my mind and asked me to do some things with that. When I did as he guided, and made changes to the movie on the screen of my mind everything changed. When I checked my feelings again, I was amazed to realize that the bad, compulsive and traumatic feeling had vanished. The hurt feeling within me was gone. I felt so comfortable after that and my heart and mind was relieved and relaxed. Those strong uncomfortable feelings have never come back to me since then. I wasnt as confident as I wanted to be. But after the sessions, I feel very, very confident and I found that I got out of that uncomfortable mental state for good.

Leena Ghorpade, Officer-Finance, India
I had this great opportunity to be coached by Mr. Nelson Negi. My coaching session was regarding the limiting beliefs I had with regards to extension of my training & coaching business. Couple of challenges I had were- How to connect with my client & vendors? Limiting Self-belief? Fear of Failure? Post the sessions I had a great action plan as strategies, a healthy & robust mind space with lots of belief re-frames to handle failures and State Management skills. Mr Nelson, I personally found to be very much quality conscious, always gets to the heart of things very fast, supremely non-judgemental & a wonderful human being. Greatly recommend for someone who is looking forward for quality work & developing excellence in the space of training, coaching & facilitation.

Dinesh Gosai