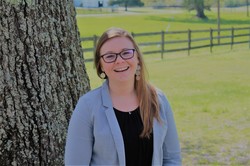 Nicki Conradt-Eberlin

Midlothian, Virginia
Leadership Coach, Executive Coach
BS, MBA
I help first-time managers with limited training or experience gain the confidence and skills to lead a cohesive team.My clients have frustrations with an unengaged team with a lack of accountability
About Me
Honest. Reliable. Determined. These are only a few words my peers have used to describe myself. I am a leadership and professional development coach dedicated to first-time managers gain the confidence and skills to lead a cohesive team.
We work with leaders that have frustrations with communication, engagement, accountability, or even time management and turn those frustrations into aspirations to have a successful, unified, and committed team.
Here is a brief overview of the process with Unleashed Leadership.
Discovery
We'll ask the hard questions. Like what kind of leader do you want to be?
Exploration
We begin to layout the building blocks. After setting goals, we need to build a strategy for success.
Execution
You commit and take action. Showing you are accountable for the effort it took to get here.
Results
Reflection is a powerful tool. Review your wins, assess, and find new opportunities to explore.
Reviews
Nicki doesn't have any reviews yet.