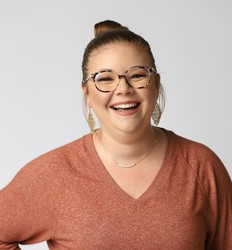 Nicki Conradt-Eberlin

Chesterfield, Virginia
Life Coach, Health and Fitness Coach, Money and Finance Coach
BS, MBA
I help busy individuals break their bad habits and start achieving their goals by mastering their mindset and creating new life-changing habits.
About Me
Hi there! I'm Nicki, Your life coach & go-to gal for habits!
I've helped my clients break bad habits, such as:
- Smoking
- Procrastinating
- Over drinking
- Overspending
- Overworking
- Overeating
- Overthinking
Then I help them develop positive habits, such as:
- Healthy eating
- Exercise
- Improved sleep
- Reduced alcohol consumption
- Fun with new hobbies
- Time management and productivity
- Budgeting and saving money
- Work/Life Balance
By learning these life-changing skills, you'll not only be able to improve the one area of your life that is keeping you stuck in a bad habit loop, but you'll learn the mindset tools you can apply to any area of your life in the future.
This work is life-changing.
I've used these mindset and coaching tools to change my life and the lives of all my clients.
Now, I'd love to help you break your bad habits and change your life too.
So, if you are ready to take back control over your negative habit, my Breaking Bad Habits program is for you.
Breaking bad habits isn't as hard as you think. It can be fun and simple. Plus, You can break that bad habit that you thought was impossible.
In my 6-month Breaking Bad Habits coaching program, I teach you H.A.B.I.T.S., which includes…
H – Habit Formation
A – Accountability
B – Belief
I – Inner Dialogue
T – Time Management
S – Self Awareness
Developing positive habits and breaking bad habits is possible, and you don't have to do it alone. Having a coach who is 100% behind you and believes in you before you even believe in yourself is priceless and will accelerate your results.
I know this can be intimidating to reach out for help, but let me meet you where you're at.
I've been where you are now, and I know I can help you.
Schedule a free no-strings-attached consultation call so we can get to know each other, evaluate your goals, and determine your best next steps. I can't wait to talk to you!
Link to schedule: https://calendly.com/nconradteberlin/consultation-call
Reviews
16 reviews (5.0)
I was 25 when I started working with Nicki - I had been a smoker for 10 years and I knew it was making my anxieties through my 20s so much worse while holding me back from hitting my true potential. Through Nickis Breaking Bad Habits program not only did I quit smoking, but I have gained so much knowledge on skills and techniques related to all things adulting. I have gained so much from Nicki and working with her for the past 8 months has changed my life forever. If youre in your 20s and having a hard time getting your feet on the ground, Nicki is the person for you!

Jordan
Nicki helped with many different aspects in my life and when we first started I felt like I was struggling to keep up with the day-to-day, make time for myself and my health, and find that good work/life balance everyone dreams of. After 6 months, I can say she helped me break many bad habits while also introducing some good habits that greatly helped my physical & mental health, diet, and weekly organization. What helped me the most was Nickis understanding and ability to help me figure out what I needed to do to reach my goals or even just have better days. I can proudly say I am back to working out regularly. She helped me set boundaries with work so I can enjoy more time with my son, family, and friends. I have a more consistent work routine and even plan personal days. She helped me develop a stronger diet and taught me many tricks and tips to help me stay on track and/or easily bounce back when I do have those off days or cheat weekends. Nicki helped me stay accountable and true to myself, and having her as a life coach was one of the best decisions I made after realizing I needed and wanted to make some changes in my life. Nicki, you absolutely rock!

Brandon
My life before Nicki and her sessions would be described best as lost in the woods. I had barriers under many pressures and anxieties that kept me from seeing what was up or down. I felt disoriented and of where to go next, there for paralyzed. I knew I needed help. During this journey, I discovered I was the reason the dust isnt clearing. Having fresh eyes helped me see what I was doing and allowed me to see the unhealthy decisions I was making. It was hard to let someone else see those issues, but letting someone into my world allowed me to see healthier ways to create positive habits and actual positive outcomes. The happiest part about working with Nicki was the sheer fact of how she truly wants the best for you. She makes it very transparent from the beginning that she is on your side. I felt no judgment when I faltered. There was praise when I succeeded and a strong embrace of much-needed accountability. Nicki provides fantastic tools and other ways of thinking about what was hindering me in my day-to-day life. Weekly goals worked best for me, and a simple, realistic routine was crucial. Nicki provided me with this, and my life started to move forward again. Fixing the small things around me led to significant changes and a brighter mindset. Nicki does not fight your problems for you but instead gives you ways of how to fight for yourself. If you feel lost and need someone that gets to the bottom of what is holding you back- Nicki is the person for you. I would recommend her to anyone who finally wants to fight for a better positive outlook on this thing we call life.

Zach Barnard
I have always wanted to breakaway from the normal full-time job working for the man. I truly dug deep this past winter and thought about how I could make it happen. Something that wouldnt feel like a job but something I truly enjoyed. I stumbled across getting a life coach. From my first call with Nicki I knew she could help me achieve my goal of being self employed. She set my dreams on a path to being no longer a dream but reality. When self doubt would start creeping in she kept my eye on the prize. She listened to my concerns and reminded me of how far I had come and how my dream was being manifested. I have thought about doing this for years but I could never pull the trigger out of fear. Nicki walked with me though those fears while helping me take the steps to get my business up and running. She was one of my biggest cheerleaders on this journey to leaving my Full-time job to pursue my dream. Nicki helped me narrow down what I needed to do each step of the way. Followed up on my progress and asked the hard questions I hadnt even though of. I achieved my goal of leaving my job and the best part I left it even earlier than my initial goal date. I attribute my success to Nicki as she truly is gifted at what she does. How many of us can say we help people make there dreams come true? Nicki can say that! My dream was freedom. Freedom of making money for someone else, freedom to spend my time how I chose and financial freedom. Now I control my income and the possibilities are endless

Jessi Recker
My life before Nicki at Unleashed Leadership was all over the place! There was never any organization in any aspect which caused constant chaos. One of the most impressive things that made Nicki stand out to me was her ability to help me in all aspects of my life. For example, she was not only able to help organize my life but also help me better understand my thoughts and feelings and then give me the tools to help make changes as needed. One of the biggest obstacles that stopped me from seeking help before was not completely understanding what a life coach can do.. Which is also what made me the happiest when working with Nicki. I felt I could work on anything that seemed to be an obstacle for me that week. From budgeting all the way down to negative thoughts. I felt comfortable talking to Nicki about those issues and her being able to give me the tools to better myself after our sessions. As a result of all of our sessions, one of the biggest benefits to me was the ability to better understand my thoughts and feelings. It truly made a difference to me once I was able to break down those things and understand the why. Once I could understand this, I was then able to fix other things in my life such as scheduling and organization issues that were causing more stress. Being taught that breakdown from Nicki was truly amazing and a great eye opener. I would recommend Nickis services to anyone willing to listen! Not only do you feel motivated after each session, you also feel relieved that you are able to be so comfortable talking to someone, especially when you know they can give you the tools to help overcome each struggle you may be facing. I would tell anyone who might be thinking about hiring Nicki that this would be one of the best decisions they could make for themselves and would not have a moment of regret.

Taylor
I've never explored life coaching before working with Nicki. Before our sessions, I felt like I was at a standstill. It felt like I was waiting around for something new to get me motivated, but at the start of our sessions, and talking out my feelings about what I wanted to achieve started my forward progression. There were a couple of benefits I had that stood out to me. The most significant benefit was talking to Nicki about things I wanted to improve in my life. Communication has never been my strong suit, but I soon realized how good it would feel to talk to Nicki and have someone give me feedback and support about what might help me or suggestions to deal with different situations. The second most significant benefit I had was my overall health since our sessions. Nicki really steered me toward positivity in my life with encouragement to get outside and get more exercise. Since I've started improving my mental and physical health, I've lost weight, become more focused, and made better choices in my personal & professional life. I really enjoyed the positivity that Nicki provided in helping me.

Jacob
I would 100% recommend Nicki as a life coach. She has been such a blessing in my life the last six weeks. I have been struggling with unhappiness related to my job and my weight for the last two years. I felt like I had tried everything, but still lacked a certain degree of accountability and direction. I was lost and struggling to find my way. Then Nicki came along. She gave me just what I needed to get myself back together again. I looked forward to my weekly calls with Nicki so that I could share the challenges and successes of the previous week. Nicki gave me ideas, asked me questions that made me rethink my whole outlook, and she was generally a fantastic sounding board. It was difficult at times to hear myself say things out loud, but I didnt realize how necessary that was for my healing process. Nicki has been able to provide me with the outlook and accountability I was lacking. Not only has that been helpful with my weight loss, but with other aspects of my life as well. Because of our talks, I was finally brave enough to leave a job that made me miserable and start a new adventure that will be so much better for me and my family. After my sessions with Nicki, I feel so much more determined to live my life to the fullest. I have a solid idea of what I need to do, how I will get there, and what to do along the way when obstacles come up. For anyone considering working with Nicki, I would say take the plunge! I absolutely recommend it. Sometimes, we may know that something is missing in our lives, and it just takes the right person to help us discover what that is. That person is Nicki! Working with her will make such a difference in your life!

Dasha W.
Going into the sessions, I was extremely apprehensive with bringing up my professional issues/concerns with anyone. After the first session with Nicki, I was sold. She was very personable and understanding of the situation I was in. She listened to me when others would not. I was having a lot of issues with separating work from my personal life and would bring a lot of thoughts home that would keep me pre-occupied instead of being able to commit all my time and efforts to my family. It took only one session to help me figure out how to actually accomplish that and my personal life has flourished. Another area that we were able to dive in to and she was able to keep me accountable with is my occupation search. Currently, I am in a field where I have been serving for over 6 years and feel like I should make a change. I was nervous to have the conversation but she enabled me to open up and walked me through my own thought process where I could actually figure out that a change was needed professionally. This has been extremely helpful as the change will help my family in the long run as well as help me to be more fulfilled professionally. I cannot thank her enough for the help and advice that she provided. She keeps in touch with me to this day to see how I'm doing and it is greatly appreciated! I would greatly suggest her to anyone that needs help figuring out any issues or dilemmas that might be keeping you from reaching your full potential. She is amazing and I cannot understate how much of an impact that she has made on my life!

D. Hunt
"I lost my job in March of this year, and I started to question my personal & professional life. I was feeling insecure and needed help creating a path for myself. Ive always been open to learning but was unsure how coaching would benefit me since I had already tried therapy. Working with Nicki, I learned practical skills & tools that were far more beneficial moving forward in my personal and professional life. She conducted our sessions in a positive & friendly way that made it easy to communicate about difficult things and kept me focused on my future goals. The advice that my friends or family gave was not enough. The different perspective from Nicki, who is outside of my life, really helped me understand my thoughts, feelings, actions & results I was creating. After working with Nicki, Im now able to make better decisions in my professional life, handle my emotions, be more honest with myself, & communicate effectively with my partner. Its like Im walking away with a massive toolbox of skills that I can use at any point. If you are debating on working with Nicki, do it! It was incredibly life-changing!"

S.Alvarado
I lost my job in March of this year, and I started to question my personal & professional life. I was feeling insecure and needed help creating a path for myself. I've always been open to learning but was unsure how coaching would benefit me since I had already tried therapy. Working with Nicki, I learned practical skills & tools that were far more beneficial moving forward in my personal and professional life. She conducted our sessions in a positive & friendly way that made it easy to communicate about difficult things and kept me focused on my future goals. The advice that my friends or family gave was not enough. The different perspective from Nicki, who is outside of my life, really helped me understand my thoughts, feelings, actions & results I was creating. After working with Nicki, I'm now able to make better decisions in my professional life, handle my emotions, be more honest with myself, & communicate effectively with my partner. It's like I'm walking away with a massive toolbox of skills that I can use at any point. If you are debating on working with Nicki, do it! It was incredibly life-changing!

Sarai Alvarado
With Nicki's guidance and coaching sessions, I learned a lot about my leadership skills and strengths as a manager. After these sessions, I am on the path to continued success in my career.

Charity Rupp
Before I started my sessions with Nicki I had a a lot of ideas and a dream to make my own equine training business work. But that was all I had, I felt it was the right time to jump in but had little structure behind my ideas and even less confidence on how to get my self out in to the public eye. During our weekly sessions Nicki helped guide me to appropriate and attainable goals each week that held me accountable and in return helped improve my communication skills, insecurities about introducing my self on social media, and organization of my business plans. Nicki has a special power to take my jumbled rambling thoughts/worries and turn it into a clear issue, plan of action, and solution. I NEVER felt like I had a silly thought or issue, no matter the insecurity Nicki approached the issue with understanding and pushed to help me find the root cause and a great solution. In a short time of 6 weeks I had a improved business plan, confidence to put my business out into the world and an increased student base. So excited to continue my journey with the help of Nicki and know I will be able to grow my business to exactly where I want it to be in no time at all!

Hannah
Working with Nicki has helped me grow tremendously in both my personal and professional life. She is a wonderful resource to help put structures in place to optimize your time, as well as grow in a leadership role. Since working with Nicki, I am much more efficient in my work and am able to use my time for bigger projects in the business. I am more confident in my abilities as a leader due to her guidance, and am able to put practices in place to help me in all aspects of my life. I am truly grateful for her support.

Kirk Jennings
I was skeptical about working with someone else to address my own issues. I considered myself well aware of what I needed to work on and thought I would be the only one who could get me there, but after covid, cancer in my family, divorce and a difficult teenage son all in one year, I decided it was worth giving it a shot if it could help me get to "okay" quicker. The first coaching session I had with Nicki felt both natural and productive. In the end, I was the one to do "the work" because I was the one who got the reward, but having Nicki checking in was like having someone to continually point you in the right direction, or keep you on track, or give you a shortcut- or re-direct your focus. Yes, you have all the tools- it's just sometimes nice to have someone show us how to use them effectively. After a few weeks session, I have gotten a handle on my covid late night/ anytime drinking; I have started volunteering in a profession I love; I have put in boundaries with both my teenage son and my job and I am happier healthier and more at ease than I was six weeks ago. For all the money we waste at Starbucks, on designer clothes or technology or things that end up at the Goodwill one year later, the money spent on living a life well is..well, money well spent. Thank you .Nicki Conradt-Eberlin for being my guide these past few weeks and for seeing how to get there quicker than I ever could on my own.

Rebecca Suder
I feel like I walked away from each call thinking, Wow! That was the most helpful EVER. I was so appreciative of how affirming and supportive Nicki was. It was so insightful when she would reflect back something that I said or when she would confirm what it was about a particular idea I shared that made it a good one and why that was. I have really gained momentum and started taking action consistently something I have struggled with all my life. I actually feel accomplished dare I say, even proud of myself for what Im getting done even now that our time together has wrapped.

Meaghan Gallant
Working with Nicki could not have come at a better time for me. After having a very tough few months, I found myself depressed, not taking care of myself and not making or holding myself to any goals. Working with Nicki was a wake up call for me. She helped me out of my slump and helped me make goals again. One of the biggest highlights was she encouraged me to look into paying my car insurance at the 6 month rate instead of the monthly rate. This ended up saving me over $150 and I was able to reach my goal of saving money. Nicki was able to frame things for me in a way that I would never have thought of. She was a great listener and really made me feel seen and heard, even during the times when I messed up and didn't reach my goal for that week. I really enjoyed working with Nicki and I highly recommend her if you are looking for a life coach!

A. Bahen