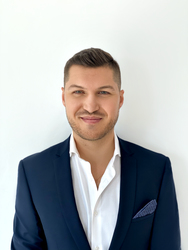 Nicolas Baratciart

Dubai, Dubai
Leadership Coach, Career Coach, Business Coach
Bachelor in Management
My ideal client is a Retail leader who wants to achieve outstanding results in her/his career
About Me
Welcome to my profile!
Let me share with you a bit of my story, and how it resulted in a coaching program designed to unleash your extreme positive mindset to accelerate your growth.
What comes first to my mind is "I've been there". I've worked in the luxury retail industry for the past 13 years, growing from sales roles to management roles. I lived these stressing situations at work where nobody would help me to find a solution. I had to find it myself.
I discovered coaching at work, and it helped me to quickly find my own solutions to any problems I could face. What could take me months to find a solution, I would find it in couple of hours thanks to my coach.
Therefore, I started my journey into coaching, adopting coaching to my management style. Amazing results were coming. By empowering my team members and listening them, I could maximize their potential to succeed.
Coaching became my number one priority and I joined the Reach Outstanding Business & Leadership Coaching program, certified by ICF, in order to be an ACC: Associated Certified Coach.
Today, I'm proud to help leaders of Retail Luxury companies to achieve success in their career!
My coaching program starts with a baseline/assessment. According to the assessment, I'll help you to gave a crystal clear goal for the next 4 to 6 months.
My promise to you is to deliver result to each single coaching session so you know you are moving forward towards your goal.
To wrap up the coaching journey, we will celebrate your success and might look for another exciting goal !
The complementary discovery session is an excellent first step for me to know more about you.
You'll also experience coaching :)
Are you ready to have powerful conversations? Ready to get out of your comfort zone?
Do you want to step up from a good life to the extraordinary one?
I'll be more than happy to be part of your success story.
See you soon,
Nicolas
Reviews
Nicolas is excellent leadership and executive coach. I have been fortunate to have coaching with Nicolas. I needed some clarity and help to move forward and he just did that with his powerful questions. It made me think deeper and discover what were my limiting beliefs and how I overcome them. Nicolas not only asks powerful questions but also he makes sure that I am always comfortable, he listens carefully and works around my needs and availability. He has created this bond and trust with me that I am always able to reach out to him if I am stuck or I need any help. Thank you, Nicolas.

Aiga Sutka