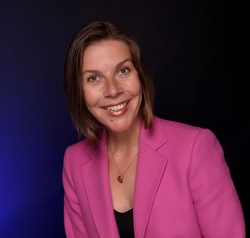 Nicole Assisi

San Diego, California
Leadership Coach, Team Coach, Executive Coach
Certified Professional Behavioral Analyst
I help leaders move from ➡️ Big ideas to successful implementation ➡️ Strained culture to joyful teams ➡️ Under resources to accessing opportunities ➡️ Hitting roadblocks to reaching top results
About Me
I am experienced entrepreneur, trainer, and coach who has worked extensively in diverse teams both as a CEO and as a consultant. San Diego Business Journal recognized me as a "40 under 40" leader and a finalist for CEO of the Year in San Diego. Despite these accolades, I am most inspired by my work as a coach, which has enabled me to support hundreds of established and aspiring leaders to increase their impact and capacity.
➡️ I come to this work with a deep belief that relationships are at the core of organizational success as teams that experience conflict exert more energy to reach individual and collective goals.
➡️ As a relational and analytical leader with a passion for continuous learning and growth, I help teams learn, unlearn, and create positive lasting impact.
➡️ My passion is to help executives and teams gain momentum by identifying their individual and collective drivers and helping them lean on each other to achieve success.
➡️ I believe given the right conditions, any leader can become a transformational leader and any team can thrive and reach new heights.
As a PROFESSOR I have worked at Cambridge University, the University of California Los Angeles, California State University in Dominguez Hills and the University of San Diego.
I have significant INTERNATIONAL EXPERIENCE having lived in Mexico, Spain, Luxembourg, Brazil, Germany, and the United States.
I hold a DOCTORATE in Educational Leadership from the University of Southern California, as well as two Master's Degrees in Education from the University of San Diego and Point Loma Nazarene University.
I am a PROFESSIONAL CERTIFIED COACH through the International Coaching Federation and a Professional Certified Behavioral Analyst and also hold several Leadership and Teaching credentials and certificates.
Reviews
I worked with Nicole for 1+ years. Nicole had a meaningful impact on my leadership development. She was a great sounding board and our coaching sessions provided me with insight and encouraged self-reflection. She provided guidance and knowledge resources to help me manage tough conversations and effectively influence decision-making. Nicole has a broad and extensive expertise.

Flora