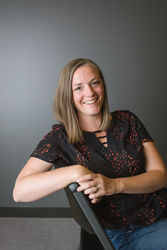 Nicole Steinbach

Golden, Colorado
Career Coach, Leadership Coach, Executive Coach
BA, Prosci Change Management & Change Leadership
I coach people who want to build and sustain a global career with exciting challenges and continuous growth.
About Me
I am a transformational coach as well as a certified change management expert. I believe in making the impossible reality through fierce kindness and hard work.
Throughout my life I've been told that what I want wasn't going to happen. But deep inside, I knew that somehow, someday I could do it.
So, I went from a single-mother working multiple jobs and still welfare-funded childhood to a global career, successfully working in over 25 different countries.
I went from a childhood speech impediment to becoming a public speaker. I also speak English (American) and German (with accent), with some creative Spanish thrown in.
​I went from massively in debt to debt-free (except mortgage) before I turned 30.
And more.
Now I am deeply passionate about supporting other people build their own global careers. My clients stay in their home countries and work with people around the world...or navigate short-term assignments in other countries...or move across borders for a longer experience.
In the past five years my clients have built globally careers that feed their ambition, their goals, and go on to inspire even improve the world.
Working with me is structured, heart-led, and action driven.
I am known for playfully 'poking the bear' with powerful questions that focus on the root cause. And then driving forward radical responsibility, for myself and for my clients
​
When you are ready to leap forward, I am ready to be your partner. Schedule a consultation to discover how we can work together.
Reviews
4 reviews (1 verified) (5.0)
Nicole followed up with me right away and was very engaging and easy to speak with. We determined I would be a better fit for one of her colleagues due to my specific needs and she initiated the referral right away!

Ted Morris
Nicole has helped me to find a voice for my most authentic self. I had times where I thought that I needed to learn and emulate what other successful people around me were doing, but Nicole has shown me that my uniqueness is my strength. After daring to dream big and to take risks, doors are opening for me that I had never dreamed of!

Erica
I was ready to give up. My husband and I were calculating how we could live on one salary. Then I worked with Nicole. It wasnt easy, and it took months to make the transition, but now Im in a position that stretches me. And we didnt burn through our savings!

Rebecca
I thought my career path was done and I was stuck in the same job until I retired. I was wrong. Working with Nicole gave me clarity, skills, and the OOPMF. Now I earn more, and I have a whole new topic to grow in. Most importantly, I can keep making sure I can grow all the way until retirement.

Carl