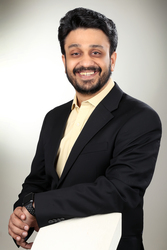 Nikhil Chadha

Bangalore, Karnataka
Business Coach, Life Coach, Executive Coach
MBA, Masteries Practitioner (IAC), Gestalt Practitioner, Hogan Certified, Mattone Intelligent Leadership Coach, Certified Mindfulness Trainer, Somatics
I coach professionals/teams with higher aspirations but feel overwhelmed, stuck or alone. I provide the support & path to succeed by helping gain Clarity, Control & Self reliance in life holistically.
About Me
People transforming their lives inspires me!
I help individuals & teams be more effective by developing themselves as authentic, wholistic, balanced contributors. My coaching blends Mindful awareness, neuroscience, psychometrics, Gestalt principles & emotional intelligence.
Executive & Business:
Being a mid to senior level executive in a faced paced complex environment can be overwhelming. The demands on oneself can make one feel stuck, out of balance, stressed & wanting more from life. You wish to boost your career/legacy or sharpen your people & leadership skills. Sounds familiar?
--> My 'In-Out' method will equip you with constructive thinking patterns, better self awareness & emotional intelligence. You will achieve your goals, improve your inner abilities & shape your future with clarity, focus & balance.
Teams:
Leaders & visions can be impeded with lack of ownership & dysfunctional team dynamics. Conflict, disconnect, absence of trust & accountability can prevent your group from achieving larger goals & effectiveness. Creating a great work environment that harnesses diversity & commitment seems to take up all your energy. Experiencing it?
--> With my 'Heads & Hearts' method, I will help the leadership & the team to synergise on a base of empathetic communication, understanding & a shared vision that drives positive change.
Life Coaching:
Life can often feel lost, unsatisfactory or imbalanced. Visualising a different future can leave you feeling helpless, alone & underconfident. You wish you could take charge & achieve your goals in all aspects of your life. Is that you?
--> My 'MindWize' method tailored to your unique mix of thoughts, feelings & challenges will help you create the changes you choose.
With 16 years of business, people & leadership experience I am well qualified to help achieve your goals. I provide a safe space to explore your feelings, support you through the change & be self-inspired to get more from life.
Reviews
4 reviews (5.0)
Nikhil has been a very patient and supportive coach. I had approached him as I wasn't able to figure out on which projects I should work on first and also there were some personal issues related to my childhood that I wasn't able to handle being a coach myself. He has helped me figure out my way towards my goals and also suggested few ways to overcome troublesome childhood memories. I liked his patient approach to listening to me completely and shared his personal experience as well about his initial stage of his career that has empowered me in some ways. I am feeling more empowered, energized to work over my goals, and have got some direction to follow. I will surely come back to him in the future whenever I will feel stuck again. Abundant Thanks to Nikhil and his team to support me on this journey.

Isha Khanna
I have been working with Nikhil over the past few months. I found our conversations to be deeper, reflective, enriching and thought provoking. During the sessions, I received meaningful insights and actionable feedback which I could apply at work the very next day and see the immediate positive impact. Anyone who need to hone the skill of leading in a highly matrixed organization with multiple stakeholders would tremendously benefit from Nikhils coaching. I have personally received praise from many coworkers who comment on how much I have transformed and evolved as a leader in the last few months, and I know Nikhils coaching played a pivotal role in that transformation.

Naren
Nikhil brings a strong blend of intellectual rigor and emotional intelligence to the table. I was really grateful for the fact that a ton of effort went in from his side to make sure that my specific requirements were met . The discussions were never prescriptive and involved helping me find out my way to the solutions. What I valued the most in our engagement was the fact that he was genuinely invested in helping me get outcomes and his engagement did not stop at the end of the session. My sessions have jump-started my journey of self-awareness. I've been able to recognize better my patterns of thinking and my default ways of reacting and the spaces they arose from. These coupled with suggested workarounds have helped me move mountains on my journey forward.

Kunal Shah, Retail Head, Urban Ladder, India
I had the opportunity to be coached by Nikhil Chadha in 2017 as a part of the leadership development program in my organisation. With a combination of mindfulness and visualisation, which I have since incorporated into my daily routine, Nikhil helped me work with the strengths of my personality and discover new ones along the way. The effects of this coaching intervention have accentuated and deepened my self-awareness, enabling me to enrich the quality of my relationships not only at work, but at home and in society as well. It has helped me work with demanding stakeholders and navigate difficult conversations, use trust as a lever to influence positive outcomes in transactions and other relationships, and to unlock the potential of my inspirational power node in mentoring my subordinates to pursue goals that otherwise intimidated and daunted them. In just a few months of working with Nikhil, I was a person transformed. I became a positive, purposeful, and self-assured leader. It is with deep gratitude that I recommend Nikhil as an empathetic, flexible and goal-oriented coach.

Bijoy Venugopal, Editor Flipkart Stories, India