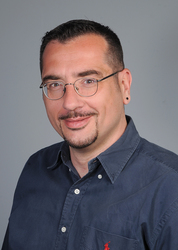 Nikos Grey

Galatsi, Attiki
Career Coach, Business Coach, Leadership Coach
As a coach, I guide people to find out what they need with the Socratic maieutic method. I support them to design and carry on with their relevant actions until the fulfillment of their goals.
About Me
Hello, welcome to my profile.
What?
I work with those who search for acceptance; to move forward & take good care of their surrounding reality.
In sessions, I share four values that my client may get:
- Mindfulness: A value to be Present, to be in touch with emotions, to be fully realistic.
- Self-Awareness: A value to love self, to be confident, to feel dauntless & continue autonomously.
- Leadership: A value to form a plan, to apply a strategy, to carry on, up to the end.
- Relationships: A value to cultivate & maintain optimal relationships with self & the other people around.
Why?
Because I'm a servant of truth & I feel blessed every time I observe my clients taking care of subjects of their concern. As a person brought up in a toxic environment, I know firsthand how important is nurturing a person, regardless of their age, having the influence & guidance of a functional role model.
How?
I perceive every single person as a free, unique, and autonomous existence. I apply my practice without interfering to my client's surrounding reality. I don't have an opinion; thus, I never criticize. I reflect my client's needs who they need to express, realize, & start working with.
My job is to be an intuitive & intelligent mirror.
What is my mission?
To work hard within myself every single day & be myself when taking care of my clients. To give priority by putting their needs for development before my own. To respect their principles & values as I share with them all of my possessed wisdom. To provide my acceptance without discrimination.
Goodbye, and thank you for your time.
Reviews
9 reviews (5.0)
Working with Nikos is like working with a clear mirror who gives you the perfect reflection of who you are at a given moment in time. His candidness is brilliant and makes you face what shows up during the process. He is definitely one of the most powerful coaches I have come across. Boom!

Sumita
Through this process, you can set your dreams and accomplish them with the best guidance you could ever have.

Spyros, CEO digital agency, Athens Greece
Self – knowledge is very important for each and every one of us, and to achieve it you need a strong and 'down to earth' coach like Nikos. He appeared just in time, to stay and play the game up to its ending. We both pace steadily to finish the game and gain the certainty we need. After all, great minds think alike! Thanks Nikos.

Anna, Educator Translator/Editor, Thessaloniki Greece.
Two words that come to mind to describe Nikos and his work are Strong and Authentic. His program or as he calls it ´The Game´ forms a landmark in the field of the coaching industry, as it multiplies the involvement of the participants into the coaching sessions, and as a result of the changes achieved, under Nikos´s guidance, are indeed transformative.

Marina, Carrer consulting & Personal branding, Athens Greece.
Our cooperation has been beneficial, because the priorities are focused and clear, while additionally the unease and concern of all the other ´targets´ has been reduced, secondary targets are now redirected for later. The approach and delivery of the ´real 'priorities have been very efficient.

Maria, Social Psychologist & psychotherapist, Athens Greece.
Every session is a step leading, not only to the fulfillment of the dream but also to self-awareness. Various answers arise, which can free our creativity and go far beyond the boundaries of the original idea we had set as our target.

Theodore, Musician, Athens Greece
Self-awareness and unlocking your potential can be achieved inside the game. Life is a role-playing game itself, and the levels you have to climb are infinite. Without the right team, you can´t do anything. Nikos is a part of the team but also the compass of the whole effort.

George, Production manager, Berlin Germany.
I've started the game with curiosity, but soon I've realized that it isn't only a 'game' and needs 'guts' to stay and play. Nikos can 'unlock' you and lead you to the desired outcome.

Dimitris, Insurance consultant, Athens Greece
Nikos is systematic, methodical and concentrated. He can organize anyone who wants to set and achieve a practical and straightforward version of their dream. He has guided me to conceive a version of my dream which, although plain, was one that I couldn´t focus within, for many years. His ability to ´see´ through the reality of things is unique.

Manolis, Psychotherapist, Athens Greece