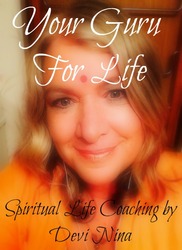 Nina Bingham

Vancouver, Washington
Life Coach, Spirituality Coach, Relationship Coach
BA, MS
I blend extensive mental health experience with Life Coaching to get you the best possible results. 98.5% of clients say it was money well spent!
Details

Vancouver, Washington 98683
Hourly Rate: $70 to $80 US Dollars
Gender: Female
About Me
About Devi Nina Bingham:
I have been helping individuals, couples and families with Life Coaching for 15 years. Over the years, I've have gained a solid reputation for work efficiency, effectiveness, dedication and utmost professionalism. I want to make sure that you get only the best and most reliable service, and are 100% satisfied with your results. In order for this to be the most enjoyable and productive session possible, please let me know your full name, a number where you can be reached on the day of your appointment, your email, what issue you would like to focus on, and what you hope to accomplish. This will help me be as prepared as possible to meet your needs. I am a practicing Hindu, and a Spiritual Life Coach (aka: your Life Guru). I will ask a few questions to get an idea of how important your faith is to you, but I have plenty of clients who do not identify as spiritual nor religious, and many of my clients are atheists. These clients need a Guru, too!
I am excited to meet with you and get started! During our first appointment, we will co-create a Personal Action Plan based on your specific needs and goals. We will craft either a Master Action Plan (MAP), or Express Spiritual Plan (ESP), whichever meets your needs. We'll work from the Personal Action Plan during future work together, and I will give you a copy to take home after the first appointment. This is an invaluable tool-clients tell me their strategic Action Plan has enabled them to stay on track between appointments, and achieve their goals in less time than they thought possible.
Reviews
11 reviews (5.0)
I've gone to many sessions and every single one of them was productive. I got exactly what I wanted out of them and felt very in control and liberated after each visit. I honestly have nothing to add in the way of improvements, just a great experience every time!:) I haven't seen Nina in quite a while because money is very tight for me right now (although her prices are definitely reasonable), but we still keep in contact and I want to go in for more sessions with her as soon as I'm able to. I see all the work she continues to do, via social media and high quality is an understatement. It is a privilege to know her both personally and professionally.

-Courtney M. 2/16
I've been seeing Nina Bingham consistently for about 5 months. She has been a tremendous help for me. She has helped me move through a very dark time in my life, and has helped me find the communication tools I need to thrive in the future.

Kelsey I. on February 22, 2016
I have known Nina for approximately two years. As one of her clients, I have gotten to know Nina quite well and can thoroughly vouch for her character, abilities and the special "connection with people" quality she possesses that immediately touched me, and many other members of my immediate and extended family. Allow me to elaborate. It is immediately obvious from the first hello with Nina that you are welcomed and that you are her total focus and concern. Nina is reassuring in how much she cares and that she is dedicated to you in seeing you through the healing process, together to the end! Nina has so much positive energy, depth of compassion and communicating her expectations. She listens intently, embraces what one feels, and she has the ability to encourage thinking into action. Her sessions were something I always looked forward to week after week, because I left feeling better about myself. After an hour working with Nina, I could see clearer what I was dealing with, and felt better equipped to cope. I have had counseling before. However, my sessions with Nina were the most helpful and progressive of all. I felt understood, and equipped with the courage to implement the necessary change, even when it was hard. These rare caregiver qualities she has, coupled with her empathy and compassion (all the while able to also "rattle your core" when needed - a wake-up call so to speak)–was nothing short of brilliant! I would highly recommend Nina in the interaction of assisting people on any level, dealing with any issues assisting in their personal lives and in rehabilitation work especially. The outcome will always be a positive one.

Candace M-2/16
I studied in the BA program with Nina at City University of Seattle. Our interest in Psychology drew us both into private practice. Nina has succeeded in fulfilling her goals as a Life Coach, a gifted Clinical Hypnotherapist and passionate author. As a professional she demonstrates the character and qualities you might expect from a professional in the world today. Nina has shown excellence in her knowledge and a profound focus on getting her tasks completed and with accuracy. She displays intelligence, strength, and the ability to persevere on many levels. As a consultant, Nina is the one I turn to most often. Her ability as a life coach has gained her worldwide recognition. I am very proud of Nina's accomplishments and wish her all the best.

Diana E.-Olympia, WA 2/16
"I have been one of Nina Bingham's clients for several years. Unlike a traditional counselor, she brings to the table her coaching skills. Nina's skills, innate instinct, and spiritual wisdom has provided me exactly what I needed during the rough patches that I have run into and continue to encounter in life. I decided to seek out a professional like Nina who had the formal training of a counselor but the tools and the know-how of a Life Coach. our interaction has always been healthy and productive. Regarding her counseling techniques, she goes beyond the call of duty to understand what kind of technique each of her clients' needs. She doesn't treat everyone the same and therefore you feel truly nurtured and supported in your personal dilemmas. I would recommend Nina Bingham to anyone who feels stuck and they need a little nudge or feel defeated, worn out, confused, dealing with a life crisis or are just plain scared and tired of being stuck. Because of her and the support she's provided me, she is one of the reasons I am alive today and finally living out my dreams one day at a time."

Ritz 2/2016
"Nina's approach to me as a client was comprehensive, caring and put me at ease in such a way that I was able to accomplish the goals I had set for myself much quicker than I thought possible. Nina is very professional and insightful. I have enjoyed working with her."

Gerry M. 2/16
"Nina was very non-biased, nonjudgmental, and not at all intrusive of my privacy, or condescending or arrogant, which I thought that many counselors were. Another reservation that I had about counselors was that they didn't actually help very much in bringing effective change to one's life or in solving one's challenges, and thus, seeing one would be a waste of money, but I was once again pleasantly surprised during my first visit with Nina. I have learned to effectively yet positively communicate with people with whom I am having troubles and disagreements, as well as make peace with my past, all because of Nina being the caring, non-judgmental, non-biased counselor that she is, and for that, I am forever grateful to her. Nina has helped me to overcome so many challenges and still continues to whenever I'm in need of assistance, as I know she does with every client with she works-and thus, I know that she would make anyone a tremendous counselor."

Courtney McGill 2015
"She is amazing and full of energy! "

Alicia 1/14/15
"I have found Life Coaching and Hypnotherapy extremely helpful. Nina's words have been extremely influential, and I have felt a positive shift in my life thanks to our sessions."

Emily 11/13/15
"It has been 2 years since I have purged, and I've been able to eliminate nearly every anxiety and habit associated with an eating disorder. Your supportive coaching literally changed the course of my life, and now I know I'm gonna take on the world. Thank you, thank you, thank you!!"

Ashley, 5/15/15
"Nina is wonderful. She is helping me to overcome things that have been preventing me from enjoying my life to it's fullest."

Anonymous Client as reported by Groupon 10/15/16
The Smart Way To Find A Coach

1 Describe Your Goals

2 Get Matched

3 Free Consultations
Find My Ideal Coach Now