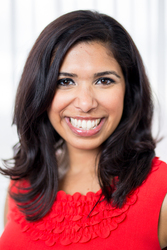 Nita Mohapatra

Toronto, Ontario
Leadership Coach, Career Coach, Life Coach
Certified Professional Co-Active Coach, The Leadership Circle 360 Feedback
Are you going through a stressful transition with increased responsibility? I help new moms return to work, new graduates look for the right job, and new managers enter the leadership role with ease.
About Me
Do you find yourself stressed about going back to work after maternity leave? Finding it tough to get the right job after graduation? Overwhelmed by a promotion into management?
Maternity moms, recent graduates, and new managers all have one thing in common- each are transitioning into a new role with increased responsibilities and feel there is little direction on how to navigate. If this is you, I can help.
I have a phased approach that takes you off autopilot and helps you clear your head to understand who you are being, align to what you are doing and formulate a laser focused plan for your next steps. You will leave feeling revived and rejuvenated.
Working with me gives you clear direction, decision-making confidence, negotiating what is really important and the confidence to show up. Together we explore your values, inner leader, and self-limiting beliefs. We create a vision for a successful transition into your new role and create an action plan that is clear, concise, and sets you up for success.
I am known for my ability to build connections, my warm presence and my zen voice which creates a spa like experience during our sessions. I have a background in marketing and an MBA from the Richard Ivey School of Business. I am a Certified Professional Co-Active Coach through CTI. Now I am successfully running my own business with a mission to bring humanity back into leadership.
Are you ready to find out who you are, what you really want and make a plan that is targeted? Contact me for a complimentary discovery call to see if we are the right fit to achieve your goals!
Reviews
3 reviews (5.0)
"After my first session with Nita, I had a new perspective on my future. For me, her dynamic personality along with her unique activities allowed me to discover a lot about myself, and pinpointed the aspects of my life that I wanted to improve upon. She taught me to take control, and that I have the power to change my life and to create the path leading to where I eventually want to go with my career. I found Nita to be incredibly motivating and supportive, all the while helping me to analyze and discover my potential. Thanks for everything! It was a pleasure to meet with you! "

Natalie Sooknanan, Toronto, Canada
"I currently run Nimarsha Photography as a side business. Before speaking with Nita there were two aspects of my business that I was understating – my profitability and my time. Nita allowed me to see the potential my business has and the strategies I could implement to shift my business to earn a profit. I'm truly thankful for her passion to help me and to guide me through some tough questions that I should have asked myself before I launched. Nita is a key player for my business now and will be in the future when I move my side business to my full-time business."

Nimarsha Rodrigo, Owner of Nimarsha Photography, Toronto, Canada
"Nita has provided me with the tools to find my inner leader and take control of my career. Using insightful techniques, she helped me lead my career in the direction I've always wanted. Her individualized approach provided me with an action plan to reflect and analyze what I wanted long term which allowed me to meet both my personal and professional goals."

Leanne, CPA, CA, Toronto, Canada