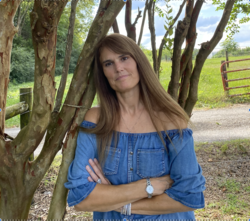 Nola Gephart

College Grove, Tennessee
Relationship Coach, Life Coach, Health and Fitness Coach
BA, Certified Life and Weight Coach, Certified Success Coach, Certified in Crossfit, Crossfit Kids and Crossfit Nutrition
I coach women, primarily mothers, looking for purpose, to improve relationships and love their lives again. I help women shed the coat of shame, blame and resentment and look toward a life they create
About Me
Do you have Writers Block for writing your own life's story?
Do you feel stuck? As we move through life, we quite unexpectedly arrive at a place we don't recognize. We are a character in someone else's story that we did not choose. Perhaps you are the victim, the downtrodden or just the unfulfilled. Perhaps you've surrendered the pen that writes your life story.
I have been where you are. I assure you there is a way forward and you already have everything you need. I will help you realize you have the power to become the hero of the story you call life.
With 15 years of combined experience in weight and life coaching, I am here for you on your journey. Let's equip you with tools and strategies for success. My clients love the discovery process and have results they didn't believe possible.
*We begin the process with identifying what it is that you want, be it better relationships, communication skills, stress management, weight issues, overwhelm, lack of direction, developing a positive mindset or just to feel more worthy. For some people, this is a challenge all on its own. If this is you, you are not alone.
*We then look at what is holding you back from being able to have what you really want. Together, we work on understanding the obstacles that keep you feeling stuck. unfulfilled, or in relationships that are not healthy ... there is a way forward.
*We then identify strategies to overcome the obstacles. We develop a plan and then decide how to put that plan into action steps that are manageable and not overwhelming.
*I am here for you through it all, holding you accountable, believing in you even when you don't, knowing that you are 100% lovable and 100% worthy just as you are, showing you how your mindset is the key to progress, and watching you realize that you really can have it all.
Reviews
3 reviews (2 verified) (5.0)
I would recommend working with Nola to anyone feeling stuck, overwhelmed, or experiencing any other of the myriad things life throws at us that knock us off course. She is the no nonsense, firm but fair voice that you need to have in your head. Don't think twice - just book with her.

Liz R
I have known about life coaching for years. I have even had a helpful session or two, here and there, throughout the last 15 years. Only recently, I finally made the decision to go all-in on a package of sessions with Nola Gephart. I was not really in the financial situation to afford it, but I found the money. I could not be more pleased that I did! I went into the process with the mindset of a willingness to be vulnerable and a readiness to do some hard work. The results of the sessions are astoundingly life changing. Nola suggested that she start coaching me on a subject completely different (or so I thought) from the subject I was seeking coaching for. I asked that she coach me on the mindset I would need to start a business. However, after a short conversation, she suggested that we concentrate on my relationship with myself, and my relationships with others. She told me we might be able to get some business coaching in the last couple of sessions. I reluctantly agreed, even though I was very eager to get rolling on a business plan. I see, now, that she knew exactly what she was doing. She knew I could, and would, figure out the business stuff with the tools she was going to arm me with. Nola taught me how to use various models to aid in understanding my confusing feelings towards myself, my relationships, and my desired career. During our sessions, she taught me how to use these models; and we practiced using them together. I often felt discomfort throughout the process. Now, I am now so grateful for that! Ive learned that discomfort is a part of growth, and growth gives me the positive feelings of determination and confidence. (Ive decided discomfort isnt so bad. Whod of thunk?) Now I have these tools forever, and I get to use them for self-coaching whenever I want. When I get stumped using the tools, Nola is available and eager to guide me through my confusion. The methods Nola Gephart taught me are applicable to every facet of life. One might go so far to say that they ARE the answer to life! (Im not exaggerating.) The crazy thing is, the path to get to the answers is so simple to navigate. I was shocked, and a little ashamed, that I had not figured this out on my own. (In response to that statement, Nola would tell me to be easy on, and to have compassion towards, myself.) When you are open to changing your life, get to it! Nola Gephart is incredible at her job. Be open to her questions and be honest with yourself. She will not judge you, and she will help you stop judging yourself. If you take my suggestions, I imagine that you, too, will have a life-changing experience!

Christy
Nola has helped me sort through and figure out so many personal issues! She is an excellent listener and is able to see things I am struggling with, even when I couldn't see them myself! Her feedback is invaluable. I have gained "tools" for coping and have resolved many issues through her excellent coaching. A true professional!

Lynn