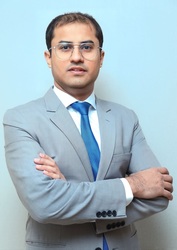 Noman Javaid

Karachi, Sindh
Executive Coach, Performance Coach, Career Coach
I coach mid career individuals looking to enhance their performance at work or currently struggling to navigate their careers & feeling stuck, or simply those who are looking to find their X-Factor.
Details

Karachi, Sindh

00923018449558

Send Message
Visit Website
Hourly Rate: $60 to $200 US Dollars
Gender: Male
About Me
I am an executive coach with additional focus on Career and specifically Performance enhancement for mid-level professionals. I am an Associate Certified Coach (ACC) from International Coaching Federation (ICF). I strongly believe that coaching works at every level & at any occasion, however like most of the things around nature, timing of an intervention is significantly important so if you are mid-level executive (experience b/w 3 and 7 years), it is highly likely that your career will navigate fast & in a right direction.
As a young individual, we lack only the fundamentals such as conflict management, handling difficult customer internally or externally, managing stress, keeping an executive presence without getting exposed to situations, switching careers at a right time, boss management, targeted socialisation at workplace and outside, personal development plan & list goes on. If we are fortunate to consult a coach at this stage of our career, our career can really fly at cruising speed.
I work with individuals at mid-level career, passionate to apply the learning & show emotions and resilience at the same time.
I also work a lot with students on their career and character building, I also teach at a business school & since October 2019, have been transferring the value that I learnt from all those incredible leaders over the years. I notice that at this stage of career the impact of coaching is humongous.
I understand the client, I read the emotional state of the client, I take time to understand the personal circumstances before indulging into a conversation. Emotional state & personal circumstances drive the ability to make quality decisions. They need to be considered thoroughly.
I invite all those young, passionate individuals who are willing to fast track their career, develop an X Factor in their personality, learn a new skill, stuck in the career, ready to jump into a corporate space etc, connect with me and experience the change.
Reviews
2 reviews (5.0)
Noman, is outstanding coach. I got multiple experienced of different coaches but no one can help out me to reach the potential except him. As per my understanding, the two things creates difference him from others. One is comfortable to coachee where I easily share my thoughts with him and then he help me to explore best solution. The second is trust that help in strong connection with each other. It creates that he is really concern and wants to develop me. This is the reason, last years I got big award Novo ka Sultan from management on best SM of the South.

Muhammad Shakeeb
I took support from Noman, when I was unable to design and focus on my goals, and everything seem like priority to me. After Noman's session, I was able to revitalize my goals and it helped me to improve my overall productivity.

Faizan Malik