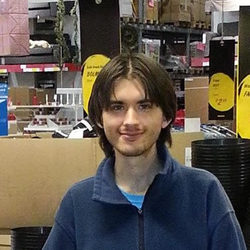 Oliver Kaufman

Redmond, Washington
Life Coach, Spirituality Coach
Founder of The World Within.org - which helps empower people on their inner journeys, 8 years of consistent self-exploration and development
I coach adults who struggle emotionally, or feel like they don't know themselves, by helping them to connect with their inner selves to reach peace, understanding, and stability in a personal way.
About Me
I coach adults who are lost, struggling emotionally, or curious about who they are.
Are you having a hard time understanding how to handle certain emotions? Do certain habits and behaviors get in the way of your life, and you've had trouble changing or understanding them? Are you blocked in certain areas of your life, feeling trapped or stuck?
Or perhaps you feel a calling beyond yourself, and don't know what it is or how to explore it. Maybe you're curious about why you have certain negative emotions or feelings. Maybe you just want to understand yourself better.
It's possible for you to have clarity about yourself, an empowered inner spirit, emotional freedom, and peace. Moreover, you can learn the skills you need to bring yourself back into balance whenever you fall out of it. And each time you work through things emotionally, you can learn more about yourself as you open up to the realities of your deepest feelings.
With coaching, I can help teach you the skills you need to not only cope, but to take troubling emotional situations and turn them into transformative experiences of joy and understanding. I can help bring you into contact with your inner forces, giving you a chance to respond in ways that spark creative discussion, mutual understanding, non-compromising agreement, and receptive learning with those forces. You can figure out what you need and what you do, and why. And you can learn how to find common ground with the forces that're in conflict with you, which can lead you to peace with the direction you take in life.
For the past 8 years, self-discovery has been a way of life for me. I continue to work with my own inner world on a daily basis, publishing many of my discoveries on my website, The World Within, along with guides to help others with troubling feelings or to explore their inner world in general. I'd love the chance to work with you 1-on-1, and help you learn what you need to tackle your issues in a personal, emotionally-centered way.
Reviews
2 reviews (5.0)
The coaching sessions I had were eye-opening to me in quite a few ways. I believe that for me, just like with many people, I can get stuck on issues on a topical level, without ever really tapping into the root cause. As someone who is very expressive and open about my life I still manage to have these deep-rooted issues within myself, but when we took our time in each session to explore them I felt like I treated these issues with kindness and respect rather than hostility. Rather than facing my problems with anxiety and short-temper as problems or as an enemy to overcome or defeat, I saw them as parts of myself to empathize with and to give relief. I think my perspective of how I see my negative emotions has been forever changed, and despite still struggling with these issues I can always remember to treat myself with more care and patience rather than attacking myself for my emotions. I would wholeheartedly encourage others to try a coaching session with Oliver because I know it would be an experience where you are taught your own inner strength and freedom to resolve issues and understand yourself. There are no false promises of a single path or quick solutions, but rather you are given a sort of life-raft to hold you afloat, and help you get to where you need to. I think this independent-oriented, and self-love encouraging mindset that he encourages is one that would be beneficial to anyone.

Sarina
I reached out to Oliver for some coaching because I was struggling with my creativity and motivation. I've struggled with anxiety and perfectionism my whole life, and its gotten in the way of my hobbies. I loved to draw and spent most of my time growing up writing stories and creating my own works of art and comics. After turning 20 I devoted all of my time to college and struggled to find any kind of creative motiviation. Whenever I did, it was replaced by intense anxiety about the art I created needing to be perfect. I didn't realize how sad this made me until I would finally manage to create something and it felt great! I needed to figure out to quiet my mind and enjoy making art again. When I reached out to Oliver, he was able to help me unravel my anxiousness. At first we just discussed my fears and what could be stopping me from just putting pencil to paper. I had no idea that I struggled with perfectionism until Oliver pointed it out. I felt lost for years, but with Oliver's help I was able to put the puzzle pieces together and create a plan to deal with my stress. I'm finally able to create art again! I've even discovered that I'm not afraid to do something new. I can't thank him enough!

Brooke Samson