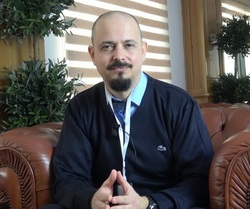 Panagiotis Ntouskas

Athens, Attiki
Performance Coach, Executive Coach, Business Coach
BS, MA, MS, MEng, CSSBB, Lean - Agile Coach
Do you often feel overwhelmed? I have coached more than 100 business owners and executives in the service industry, helping them to increase their productivity by 50%.
Details

Athens, Attiki
Hourly Rate: €50 to €100 Euros
Gender: Male
About Me
Are you currently struggling in your role? Do you feel that time is never enough to perform your tasks? Do you often suffer from burnout?
You probably think that you are not capable enough, that you are not fast enough or that you are a procrastinator. You probably believe that things are just what they are and that it is inevitable to work long hours, stealing time from your personal life.
But here is the truth. It is not that you are not fast enough or that you are a procrastinator. It is not that things can't change. Maybe you are not managing the time well enough, or you haven't optimized the way you work. May be there are other organizational reasons.
I believe that productivity is a vital ingredient for success. In my personal productivity coaching program, we will do a productivity assessment and we will analyze the possible root causes of low productivity. We will explore both your inner world and the outer world. We will develop targeted solutions to solve the problem.
As many of my clients have reported, after working with me all the reasons for low productivity will become crystal-clear, you will be inspired to take specific actions and pursue changes that will address the root causes, your energy levels will raise, your productivity will increase, and your work-life balance will improve. Imagine being able to handle more work, working without stress, finishing work on time, and having the time and energy afterwards to pursue the personal activities you always dreamed of.
I am a performance and personal productivity coach with 15+ years of experience in managerial and consulting positions related to HR, training, productivity improvement, lean and agile implementation and business process optimization. I combine the analytical skills of a consultant, the creativity of an artist (writing, photography) and the mindfulness of a long-term meditation practitioner. I have lived and worked in Greece, Bulgaria, Germany, UK and Saudi Arabia.
Reviews
4 reviews (5.0)
Panagiotis has been a great coach! Since the first session he has established a friendly and comfortable environment to deliver the sessions. He is patient and provided me with the space and time to both communicate my struggles and reflect upon them. He follows a simple and structured routine that was adopted for each session that made the process go smoothly. Panagiotis targeted the topics we discussed with respect and suggested feasible and personalized practices to my needs. By now, I am confident to say that I have become more mindful about managing negative emotions after our sessions.

Katerina
Panagiotis helped me to change my career successfully and follow my dream of becoming a ceramic artist. I used to work as a personal assistant, and I was so tired of my job. I had always been artistic, but I had never imagined pursuing a full-time career in art. When you have a steady job, it is so difficult to leave it, even when you hate it, and dive into the unknown by becoming an artist. Panagiotis help me overcome my insecurity, realize my values and my life purpose, and take steady steps towards pursuing my dream and building a successful ceramic business. I am so grateful to him!

Victoria, Ceramic artist
When I inherited the family business my main concern was to develop the business and increase sales. The main problem was that I did not know how to do it. I was familiar with the technical processes, I knew how to do the job but I did not have any sales skills. I did not have a business background. When I started working with Panagiotis I was very skeptical. I did not know what coaching was and how it could help me. I told him on the first session that I want tangible results: to increase my sales. I still remember how Panagiotis responded. With a soothing voice and in a peaceful manner he said "sure, we will work according to your agenda and we will reach your goals". At that moment I became more relaxed because I felt that everything is possible. During the six months we worked together not only did I reach the sales goals I had set but I also realized that I could expand my services and target new markets. Panagiotis helped me develop new communication and sales skills, create action plans and overcome obstacles. Without him I would have never accomplished so many things in so little time.

Dimitris, Business Owner, Athens, Greece
I started working with Panagiotis after I got promoted as Line Manager for a new production line at our company. At that time I was struggling because the processes were totally new to me, I had to manage many more people than before and I had to achieve quick results. I remember spending more than 12 hours per day on site and coming home feeling totally burned out. Panagiotis helped me set priorities and goals that led to quick wins. He helped me develop my leadership skills and build a successful team which improved the moral and engagement of all employees. My work life balance improved quickly. I stopped spending endless hours at the office and as a result I became more energized, more motivated and more productive. The new production line became a benchmark after the optimization of processes and the great results we achieved. Thank you, Panagiotis for your commitment to the coaching relationship and all your support!

Alex, Line Manager, Athens, Greece
The Smart Way To Find A Coach

1 Describe Your Goals

2 Get Matched

3 Free Consultations
Find My Ideal Coach Now