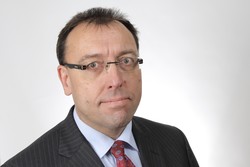 Pantaleon Fassbender

Sarasota, Florida
Business Coach, Executive Coach, Team Coach
MA, MS, Th.D.
I coach executives who drive change in their areas of responsibility. I help my clients to authentically and better balance customer expectations, team dynamics, and business excellence-requirements.
About Me
I've been providing Executive Coaching, Leadership Development, and Management Assessment to senior and C-level participants for more than 20 years.
I am certified for Saville Assessment's Aptitude-Test and the family of WAVE-questionnaires: some very powerful predictors of workplace performance and potential!
My client exposure covers industries as diverse as automotive, consumer goods, defense, health care, newspaper, and professional services.
An essential part of my coaching experience is my international background with mandates in Europe (Austria, Germany, Switzerland, Great Britain, Ukraine), the United States, and Asia (Mongolia, Thailand). Equally important is my work with leading German Universities (Leuphana Professional School at Luneburg, SRH Mobile University at Riedlingen) covering post-graduate executive education and especially online-training and online-coaching.
After concluding my M.A. in theological studies and my M.S. in I/O Psychology, I received a scholarship to finish my Th.D. in intercultural Ethics at the University of Bonn (Germany).
Since 1995 I have been working for different management consulting firms (10 years with KPMG Germany as Manager, Senior Manager, Director) before founding Kambs Consulting in 2010 and Twisters Management Consulting LLC in 2019.
Reviews
¬¬After my graduation as M. Sc. in Business Psychology at the FOM University of Applied Sciences in Berlin, I would like to express my special thanks to my lecturer in the field of psychological competency, Dr. Fassbender. The combination of his extensive theoretical knowledge and the link to daily practice and especially the elaboration of problem-solving strategies and approaches was especially beneficial. Since then I have been able to apply and use this knowledge in my daily work. Thank you very much for your wonderful work Dr. Fassbender and all the best with Twisters Management Consulting LLC in the USA. I hope we will meet again.

Henning Rieke