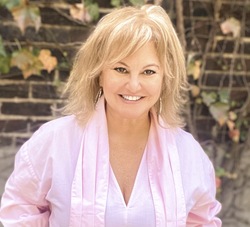 Paola Samuel

Montreal, Quebec
Life Coach, Performance Coach, Leadership Coach
BA
My ideal clients are people looking to add fulfillment, meaning & purpose to their lives but fell stuck and fearful to move forward.
About Me
Are you looking for more meaning in your life ?
Do you feel stuck in a job that earns you a living but doesn't connect to your true purpose ?
Do you feel like something's missing ?
I was there. I had a successful career as a broadcast journalist - I had what everyone thought was the "dream job " but I felt unfulfilled.
I now live a life filled with purpose and meaning and I can help you connect to the life you were meant to live !
Mindset + Action = Results.
That is the basis for every one of my coaching sessions.
I help people people looking to add fulfillment, meaning & purpose to their lives but fell stuck and fearful to move forward.
If you're someone who is looking to add or into your life -
more purpose, more passion, more meaning but have no idea where to start or to scared to take that 1st step - I can help !
About 11 years ago, I picked up my first personal development book – and I was hooked!
My background is in broadcast journalism.
I spent years telling stories about everything from politics to entertainment – but I had never touched on mindset and personal growth.
The more I read, the more I grew, the more I grew, the more my perspective shifted and a whole new world began to open up!
That newfound mindset gave me the courage to walk away from my decades-long TV career and concentrate on my purpose – helping people step into their truest, most badass version of themselves.
As a mindset coach – my passion is to help you crash though your self-imposed limits to get to your truest, brightest and most courageous self.
What is holding you back from leveling up and going from good to great?
What would you do if you knew you could not fail?
Let that sink in!
Reviews
4 reviews (5.0)
Paola has a true passion for helping people see the best in themselves and grow into their potential. She has helped me tremendously by kindly shepherding, being honest and real, regularly encouraging, and intentionally guiding me to be self-reflective. Paola has a talent for guiding you to understand and find truth, she is patient and trustworthy. She incorporates practical tools and suggestions to maintain and advance your daily living. I'm so very thankful for the way she has been able to speak into me and help me grow over the last few months.

Allison Parker
Paola is an amazing resource for anyone looking for a fresh new perspective. She truly understands what it means to reinvent oneself, and creativity is at the heart of her advice. I cannot thank Paola enough for helping me look at my goals in a bold new way!

Carrie Mazzoff
Paola is one of the most engaging and dynamic storytellers that I've ever met. In addition to being an effective communicator in her own right, she's extremely effective in teaching others how to master this art. I found her guidance and training extremely clear, effective, and enjoyable. She definitely helped me up my game on how I communicate my startup to investors, partners, and others. I was able to raise an additional six figures in startup funding after just one short session with Paola, and I definitely plan on going back to her for additional guidance.

Alyse Dunn Founder and CEO of CareCopilot
I am thoroughly floored at how powerfully efficacious and lasting the effects of Paola's work are at unblocking my limiting beliefs. And I say this as someone who has had experience with tons of different healing and therapeutic approaches over decades. I had a first session with her a few weeks ago. I did not know much about her method or how it worked or what to expect, but I was open to discovering this and had something blocking me from moving to the next level of growth in my business that I really wanted to get to the bottom of and get past. For starters I was impressed at how quickly she guided me to figuring out what the block was and I also really love how we started off with a test that really helped me see the impact of her work. I say that because after she did whatever that thing is she does, she asked me if I felt anything. And I didn't feel anything on my end, really. But when we redid those tests, it was mind boggling how everything about my beliefs around my blocks had changed. A full 180 degrees in less than an hour. That was stunning as it was. But even more surprising...today, 3 months later, my former belief still hasn't come back. I mean, nothing. I definitely did not expect such profound and lasting change from so little active "work" on my part. That is one of the things I love most about her work. it's so effective without having to spend years in therapy as is the case with so much else out there in the self-help world. So, a week ago, when I realized another limiting belief holding me back, I booked another session with her. Again, super efficient...it took so little time to get to the exact belief that needed to be dealt with. And this time, maybe I was more open, I have no clue how her stuff works or what makes the difference, but this time I totally felt the shift immediately. I am so excited to have access to Paola and a tool as effective as this to help me get past blocks from the past and free myself to write a future unencumbered by my past. Thanks Paola! You are amazing!

Anouk Malaika Flambert, MSc.