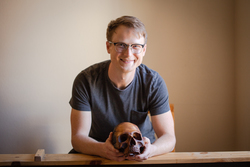 Patrick Doss

Tucson, Arizona
Life Coach, ADD ADHD Coach, Performance Coach
University of North Texas, Watts Atelier of the Arts, Idyllwild Arts Academy
I coach artists and creatives to find direction and foster true fulfilment and success in their lives and careers. I help clients learn to maximise their potential through emotional intelligence.
About Me
Hello fellow Artist and creative,
Congratulations on taking a huge step by looking into hiring a professional coach.
You have the creativity, drive and intellect to do anything... but something is holding you back.
In my experience as an artist and coach, I understand that creative people think differently. Learning how to best work with yourself and your creative brain while finding balance in career and life is the artist's struggle. The good news is that there are solutions and you don't have to go at it alone.

You have great ideas can't decide what to focus on. You want a clear sense of direction while allowing flexibility to experiment and explore.
ADHD can give you a knack for novelty. But you want to stay organized, focused and motivated to start and complete projects and boost your productivity.
You value quality. And care about delivering your absolute best. But sometimes find yourself feeling discouraged or stuck when you don't quite meet your high standards.
Perhaps you've held back on opportunities because you felt you weren't quite ready. But you want to break out of your shell, share your talents, and feel confident in yourself and your work... even in the face of criticism.
Difficulty finding the right outlet for your unique skills can leave you feeling like a loner. But ultimately, you care about making a difference in peoples lives. You want to use your art to influence and contribute to something truly meaningful.
You're ready to start expressing yourself fully, making lasting impacts while supporting yourself and your creative lifestyle.
If you're unsure of where to start... no problem. I invite you to request a free consultation so we can discuss your strengths, challenges and clarify what coaching needs work best for you.
I look forward to our conversation.
-Patrick
Reviews
Patrick doesn't have any reviews yet.