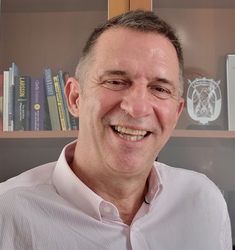 Paul Bellavance

Dubai, Dubai
Career Coach, Executive Coach, Performance Coach
Leadership Certificates with INSEAD and HEC Business Schools
My PEAK PERFORMANCE PROGRAM makes use of a culturally diverse and professional approach to help participants from the GCC and Asia (locals & ex-pats) achieve their peak performance.
About Me
The world is changing; for you, for businesses, for everyone!
To help you strive and be more successful in this changing world, I have created the PEAK PERFORMANCE PROGRAM (PPP) to help maximize your potential and take your career to new heights. Contact me now for a FREE 30 minutes virtual video introduction to the PPP!
Background Overview:
o Subject matter expert with extensive experience in the GCC, Middle East, North America, and Asia markets
o Startup team leader with the highly successful HEC Paris in Qatar
o Recipient of the Middle East most fabulous Coaching Leaders award
o Highly successful track record in Human Resource, Business Consulting and Organizational Transformation
o Recognized subject matter expert and assessor for the UAE Government Excellence Programs
o Successfully launched a unique experiential Leadership Development Program called Sandal Camp in Oman
o Extensive experience in Telecoms, Government, Financial, Insurance, Aerospace, Executive Education, Consulting, Health, and Medical sectors
o Member of INSEAD Advisory Committee and Guest Lecturer with HEC Business School on Career Planning
o Neuro-Linguistic Programming and Chally Certified Assessor
INTERNATIONAL SPEAKING ENGAGEMENTS
• PMI Institute: The Organizational Change Process
• The Middle East HR Summit in Dubai: Facing up to competition
• 5th Annual Career Development Conference in Dubai: Managing Change in the Context of Career Development
• Presentation in Qatar on Employee Engagement
• Presentation at the 2nd Annual Talent Management Conference in Dubai on a fully integrated and structured career development system
• Presentation at the 14th HR Conference in Istanbul on Talent Development DNA
• Facilitated workshop at Nationalization conference in Doha
Reviews
2 reviews (5.0)
Paul is a phenomenal executive coach. He is able to meet clients where they are through his deep sense of presence, humanity, and insight and move them to a higher place. Paul brought his HR insights, expertise, intuition and passion to my HR practice and worked with me on my executive presence as a woman in C-suite. He has a rare blend of being demanding in setting objectives and holding me accountable to them whilst also having a great sense of humour and being very human. He is inspiring, strong and a fantastic role model.

Dr Kholode Al Obaidli
I have known Paul Bellavance for more than 17 years. He and I met while I applied for a job to implement HR Applications at Omantel, Oman. He was HR advisor; I was an IT professional and he helped me improve my knowledge in Human Resources. Paul is one of the most dedicated, hardworking and innovative people Ive had the pleasure of working with . He is also compassionate, kind and never misses the opportunity to help others. Thanks to him, I acquired my knowledge of HR and I was able to get accepted in other Organizations. Paul is the type of person you can count on to keep a cool head in a stressful situation, and his positive attitude is contagious. For these reasons, I recommend Paul for a coaching position and believe he would be a valuable asset to any organization fortunate enough to have him on their team.

Amel Khalifa