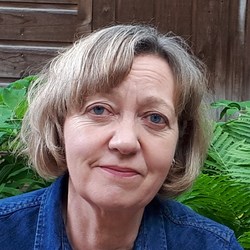 Paulette Blais

Toronto, Ontario
Life Coach, Entrepreneurship Coach, Health and Fitness Coach
BA, Master's in Industrial Relations (MIR), Professional & Personal Coach Certification (PPCC)
I coach clients who want to change their lives, but feel stuck & unsure how to do it. Whether career, wellness or other goals together we create clarity, confidence, momentum and results!
Details

Toronto, Ontario M6H 2P4
416-532-8336
Send Message
Visit Website
Hourly Rate: $95 to $125 Canadian Dollars
Gender: Female
About Me
I became a coach because I believe each person has potential to design their life. I want each client to know that they are capable of changing the way they work, where they put their energy and how they move in and care for their body.
My choice to become a coach was motivated by my own big professional and health changes.
I left a permanent government job to found my own successful consulting business in the regulated professions sector (Blais Consulting Inc.) then 15 years later retrained as a coach. I am not more daring or risk-averse than anyone else, but I did find follow opportunity and design a really satisfying career. My clients are also seeing to direct their talents and life-energy in more fulfilling ways. I know that they can and working together - they do!
In my 50s I ramped up my fitness. I trained and went on open-water swimming trips of up to 5 km/day. I finally got a handle on my weight, lost 30 pounds and learned how to keep it off. This made me more confident and strong. It also validated my belief that we can change habits and make positive, long-lasting physical changes at any age. I want that for my clients.
Life is all about transition. Some of my clients are reeling from job or life disruptions and others want to create them! People know that they want something different, but not what that is. Coaching is not psychotherapy but it is therapeutic. My clients can have open and confidential conversations about what matters most to them. There is no judgment or need to critique or limit the exploration.
Each person's goals are different. You lead the coaching journey. I will ask a lot of questions. I am your ally and will celebrate your success. You will be accountable for your progress, and I will hold you to it. It will be harder work for you than for me. You will learn a lot about yourself. You will get stronger and gain confidence and enthusiasm as you make progress towards your goals. Let's start this adventure together!
Reviews
5 reviews (5.0)
My life is currently in flux on so many fronts. Consequently, I come to each coaching session with a different focus. In other words, we are not working on one single project for me. I benefit enormously from my sessions with Paulette. She is an excellent and sympathetic listener. She is able to re-frame what I have shared in a manner that shifts my perspective and inspires me to explore options, make plans and take action. Insight, clarity and optimism are invaluable to me as I move forward in this isolated pandemic life. Paulette has taught me to look at things with fresh eyes and hope. Her coaching has helped me shape my future and I feel more and more ready to bloom.

Judith H.
Coaching with Paulette was the best thing I could have done for myself during a long period where I was stuck in a rut and afraid to make changes. With great skill, compassion and patience, Paulette helped me define my goals and work toward them steadily. Thanks in no small part to her, I found a great new job, engaged in a major house renovation, and now feel able to take on many other challenges!

Cynthia M.
At a crossroads in my career, I turned to Paulette to help me narrow down my choices of next steps. With gentle questioning and delving she enabled me to dig down and find the honest answer that was hiding inside me of what I really wanted to do next - it wasn't any of the choices on my original list! Listening carefully and knowing exactly what kind of positive reinforcement and motivation a person needs are Paulette's top gifts in my opinion. She brought me from, "I really wish I could do this", to "I know I can do this and now I am doing this!" I am so glad I had these coaching sessions, if not for this I might have put off doing what makes me happy and fulfilled for another 20 years.

Gillian Arnold
Coaching with Paulette was an enriching experience. It was an energized dance between process and productivity. Over the course of our meetings, the jumbled mess of thoughts and vague ideas in my head began to untangle and form into concrete, doable actions. Her questions guided and nudged me in a supportive way towards the personal and professional growth that I was seeking. I highly doubt I would have made such progress without her help

Debbie Tripp
I didnt see where coaching could take me or understand how it would open up my thinking until I sat down with Paulette. She asks just the right opening questions, and then has all the right follow up, all of which encourages long range vision but also the concrete next steps to head in that direction. Paulette will help you unlock your dreams and then plot the path to get there. She listens both to what you say and dont say. She presses without pushing. And most importantly she helps you see how best to trust your own judgement.

Alex Neve