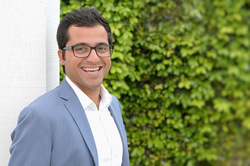 Payam Haghani San Diego, California
Life Coach, Business Coach, Leadership Coach
Affiliate and graduate of Accomplishment Coaching
Immigrants who are passionate entrepreneurs and artists to live their life on purpose, become unstoppable, and create sustainable businesses, leaving them with confidence, enthusiasm and peace of mind
About Me
Payam Haghani has received his master degree in entrepreneurship from University of Tehran in 2014 before moving to USA. Since then he has been through a lot of ups and downs as an immigrant dealing with cultural shock and losing everything behind and starting from scratch and then reinventing himself.
He has worked for 7 years in different industries as sales and marketing representative and has learned quite helpful experiences since he was in college. His life has changed completely by higher energy level, motivation and happiness when he has started learning about himself and self-awareness in his Life coaching program. These lessons were the best one that he has ever studied, because it was not about something strange, but it was about how he is thinking, operating and dealing with his life. He has been always passionate about supporting people to have better life, but he couldn't be as helpful as he is today, because he has transformed himself and started living with his inner power and his highest qualities, therefore he can coach his clients with his heart and wisdom. He is living his dream life in San Diego and he would love to empower you so you can live yours!
Reviews
Payam has 6 reviews.
Working with Payam is a rewarding experience. His presence and reflection allow for deeper awareness and clarity on challenges. I really enjoy his perspective and his gentle but firm accountability. Our time working together is valuable to my business growth and expansion.

Theresa Grisanti
Payam has been my life coach since August. He is very patient, understanding and knowledgeable. He focuses on the right topics at the right time. I'm a calmer, less nervous person today because of his help. He offered me a free session and I was hooked after that. You should try it too!

Sally Vahaji
Working with Payam was an awesome experience. I approach my day knowing I am "enough", with greater acceptance, and love for myself. I highly recommend working with Payam.

Robin Bechtel
Payam has been amazing since the first day I met him. Encouraging, positive and caring, he supported me on every way I needed and exactly how I needed it.
I would recommend Payam anytime anywhere.

Sebastian Di Giuseppe
Mr.Haghani is a great life coach. I was his client for sometime. He helped me optimize my life step by step. He is a great listener and provided many insights to my problems.

Mitra Naseri
It is my absolute pleasure to recommend Payam. I thoroughly enjoy my time working with Payam, and came to know him as a truly valuable asset to our team. Payam is honest, dependable, hard-working and always willing to learn and take on new challenges.

Marie Kirkpatrick