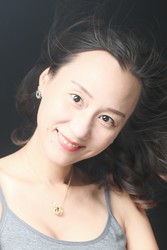 Pearl Bu

Winnipeg, Manitoba
Life Coach, Relationship Coach, Career Coach
Project Management Professional
I coach women who never give up 'Complete' Self and Life, seeking for the right track towards the dreamland with a fearless, confident, free, energetic, compassionate Self.
About Me
I am a yogini holding the value of fearless, shameless, respect, openness, keep value and beyond the boundary.
I am a coach believing every individual is primordially complete, potential and resourceful.
I have my own company Changer Consulting, specialized in coach individual and group who are experiencing changes or transformations in working environments or life circumstances. At the same time, I am the coach and trainer for single mother group and teenage family for community and organizations.
I used to be a project manager with 15+ years' professional working experience in Business Operations, Human Resource, Project Management in fortune 500 company with proven track in the domain of Project Management, Change Management, Organization Design and Learning, Talent Management.
I am a bilingual in English and Chinese with Asia Culture background and cross-culture experience. I originate from Shanghai, China, spent 3 years in France. Most recently, I am living in Canada. My interests and hobbies are Meditation, Yoga, Zumba, Reading, Writing, Travel and CONNECT HUMAN-BEING WITH CURIOSITY, ENERGY & LOVE.
ALALA! Welcome to our coaching space, with my 'Light Up' coaching program, you will be crystal clear through your brain, body, and mind on
• Who you are
• Who you want to be
• What's your genius
• How to remove the obstacles
• Where to find the resources and choices
• The solid plan to realize your goals step by step
By the end of our coaching journey, you will find you are on the right track towards your dreamland with fearless, confident, free, energetic, compassionate U!
Reviews
3 reviews (5.0)
First met Pearl Pu was in the Lesson in ICA and then we had some connection. That was amazing! Pearl has been a great mentor to me in my life. She really taught me a lot on how to see life from a different perspective through fitness. Really Thanks a lot for the mentorship and Her genuine concern for my well-being. Life coach,Pearl Pu, the right choice forever.

Rambo chen,China
I am so impressed by her smart questions and powerful feedbacks when I first met my coach Pearl. She makes me think of enrichment, flowing and wisdom. Even when we get more and more familiar with each other as time goes by, I love talking with her as I always can find some gifts from the conversation with her. Each coaching session, she is centered and calm in the space as well as present with me for any kinds of difficulties or obstacles. I feel safe and comfortable in this space. As the one who is not talkative, I am willing to talk a lot with Pearl in each session. As the one who always keeps logical, Pearl enables me to open my sensor on body, feeling, emotion, intuition. What happens for me on the coaching session, is used to a mission impossible. A good coach can help me to find back myself, a different side of me, an observer of me, and then empower myself and leverage myself to find a way out of my maze. This is what coach Pearl makes me achieved, like her name, pick up pearls on the way and wrap up with a gift for life.

Reny.HONG
When I started coaching with Pearl, thats a messy stage of my life. My boss changed, my sons school changed, I am too depressed to handle all these out of control situations. Thanks Pearl, owing to her presence with me with her powerful question, precise feedback, warm connection, I find back my strength to comb what happened external and internal. She accompanies me to identify my value my belief and prioritize what important to me. At the same time, I start to learn accept and love myself with her empowerment. Her coaching likes a light enlighten the deepness of my mind and drive me explore further. Appreciated so much this coaching experience. Especially once we were talking about death, which is a topic I cant stop questioning and thinking but shame to tell others. Pearl makes me feel its so correct so worthy to think about this topic. The beautiful moment will always keep in my mind. Thanks for every moment we created in our coaching space. This is also one of most valuable memory in my life.

FEN.LIU