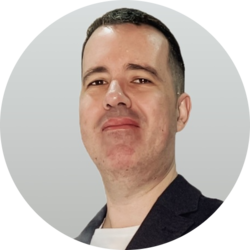 Pedro Pinto

Boca Raton, Florida
Executive Coach, Leadership Coach, Life Coach
MBA, Certified Executive Coach, NLP Master Practitioner
I support individuals overcoming their roadblocks and balancing their personal and professional lives
About Me
Pedro Pinto is a Certified Executive Coach; he supports individuals overcoming their roadblocks and balancing their personal and professional lives
He focuses on leadership skills, people skills, high-performance, business strategy, and behavior/cultural transformation.
With a solid – 17+ years – in the corporate world as a CIO, he understands the hurdles of how to navigate across a company, it's areas, and teams.
Having an IT, Digital Marketing, Master in Neuropsychology, MBA, and having a solution-focused mindset, he can support, facilitate, and provide solutions in an integrated way achieving the best possible outcome/scenario.
He is an International Coach Federation member, Professional Certified Coach, always striving to develop himself. Moreover, he has a strong connection with the US, namely Los Angeles, San Francisco, and New York.
His love for languages – he speaks English, Spanish, Portuguese (European Portuguese and Brazillian Portuguese), French and Italian - and worldwide cultures allow him to have a global perspective of the world and better understand his clients.
Pedro uses his free time focusing on his self-development, international economy and politics (US, Canada, and UK), reading, meditation – Mindfulness, and Reiki -, traveling and connecting with friends from all over the world.
Reviews
6 reviews (5.0)
Pedro's style is supportive, encouraging and appropriately challenging. He is friendly and warm, curious and keen to help. I would happily recommend Pedro as a coach based on my experience over six sessions. He is warm and supportive, with a very considered approach. He challenged me appropriately so that I could gain maximum benefit from the process. He listens well and asks good questions, focuses on the process without getting sucked into the narrative while challenging some of my assumptions and beliefs and helped me to review their effectiveness. By reflecting back what he heard without judgment, he picked up on subtle nuances of tone and speech. I used my sessions with Pedro to focus on key topics that were front of mind around the time of our calls. He helped me to unpack various business topics and arrive at my preferred action plan. I found myself experiencing valuable insights during or sometimes after our calls. To give one example, my belief that "selling to strangers is a fruitless task" became a belief that "selling to people who don't understand the value of what I bring is a fruitless task." If I can demonstrate the value, even to a stranger, I'll stand a better chance of making a sale. Pedro was influential in helping me to decide on a course of action for several topics we discussed.

Andy Follows – Managing Director – UK
Pedro helped me as my career coach at a time I needed preparation for this major employment transition. I had just quit my job and wanted to change my area of expertise 100%, not knowing where and how to start. I want to emphasize that Pedro did not make decisions for me. Instead, he has helped me develop ways to deal with situations using my own knowledge and self-awareness by creating a plan or concept for what I want my career to look like in the near future. Pedro helped me taking action, step by step, think about where I am, where I want to be and how to achieve that. Through that process, very wisely, Pedro created hypothetical scenarios, challenged me beyond my comfort zone and helped me realize that, no matter what, I always have choices. Bottom line, he asked the right questions which led me to very solid decisions. As to the value for my money? Absolutely! I would recommend Pedro as his wisdom, transparency, forward-thinking, honesty, life experience and genuine interest in helping others can help anyone, in any circumstance in life. It works! Pedro has been a vital resource for me, and I look forward to our continuing relationship.

João Machado Nobre – Product Manager – Lisbon, Portugal
Pedro's unique coaching style created an environment of openness and professionalism that allowed me to deeply and effectively explore personal issues that were curtailing my ongoing development. Through a combination of empathetic listening and a strong attention to detail, he acted as a full and equal partner throughout my coaching session. The value I received included an increased awareness of some of the important action steps that would be of greatest benefit to me at this time. By adopting these action steps, I am now better prepared for my academic and career pursuits.

Aryeh Glazier – MA in Organizational Development Student – USA
With the financial crisis, I came across with the challenge of wage reduction. The promotion seemed each time more far away. The coaching sessions with Pedro made me realize the technical competencies I needed to develop, and also the soft-skills. With the goals set, it made me unblock and grow as a person. The bottom line is that the promotion was achieved, so the coaching sessions were a brilliant and important investment.

João Martins, IT Manager – Data Services at TAP Portugal Lisbon, Portugal
When Pedro was coaching me, I felt like he understood at a deeper level. He genuinely cares. He is a coach that likes happiness and joy, but can come down to the serious moments as well. When I was working with Pedro on my next project, my thinking cleared, and I developed an action plan for networking. Next time we talked, he was sure to hold me accountable to my plan. One thing Pedro works toward is solutions. I am thankful for my breakthroughs during my coaching sessions.

Nick Fowler, Leader in International Non-profit – Missionary North Brazil
Thank you, Pedro! After our coaching sessions, I had a clearer picture of where I was going. Thanks, too, for helping me break down the steps to get there. I really appreciated you keeping me on track with my goal. You've been a great support.

Lori Bertazzon, Vancouver, B.C.